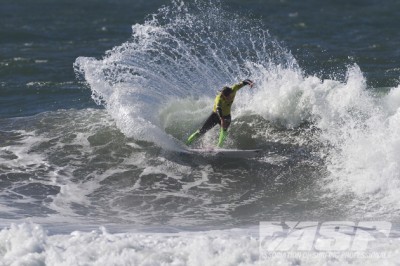 Brett Simpson (USA), 27, has been building momentum throughout his experience among the world's best surfers and with the 2012 season just around the corner, Simpson is about to embark on his third year on the ASP World Title Race. The Huntington Beach standout kicked off 2011 with a 5th at the Quiksilver Pro Gold Coast and Simpo is fired up and ready to start his season in top form again. The ASP recently caught up with the regular-footer to see what he's been up to and see what he has to say about the year ahead.
With the break between Pipe and Snapper, there's a little bit of down time, what have you been up to with your time off? Did you take any fun trips or have you mostly been enjoying home? It's been a great break for me! I've been doing a lot of surfing at home and we have had a great winter on the west coast. I surfed some fun beach breaks in LA and fun points up in Santa Barbra and then I went on a trip with the Hurley crew to Ireland. That was really refreshing and different and I was really stoked to do something new!
California has had a few fun swells this season, where have you been surfing? I've been getting some fun waves in HB, as well as the LA area and the Queen of the coast for a little point break practice!
Now that you're entering your third year on tour are you feeling more comfortable with each year? How much does the experience help? Is there anything major you feel has changed for you this year compared to 2011? Well comfort comes with a bit of success and I have had little tastes of it! Though I defiantly do feel more comfortable and feel like I belong here there are so many hot dog young guys now that you always gotta be on your toes and ready to battle!
Snapper has been a good event for you, so can you talk about your experience with the wave and the event? It's a wave I love to surf and that goes to show in the success I have had out there! You have to enjoy the wave and wanna do well! At this level it just doesn't happen, you can't get away with that anymore, so every spot I go I try to get more in tune with the waves and learn to enjoy it.
Are you heading over to Australia early or spending as much time at home as possible before the travel season begins? I'm heading over soon for the burliegh 4 Star! It'll be nice to get in some warm water, work on my boards with JS and get my heat legs and endurance back!
The new rookies made a big impression last year in the back-half of the season, any predictions for break-through seasons for the competition? It's hard to say, there's some really good talent but then there are some great heat surfers! Contests seem to really even things out, everyone has to execute in that same 35 minutes! This ain't no filming a surfing segment!
Now that the midyear rotation has been disabled it takes the pressure off to earn results immediately to stay on tour, does that change your mindset going in to 2012? I'm a competitor, I will be at every event that I can get to that's not a hassle and I'm there to win! Our sport is amazing with many opportunities that have to be taken advantage of. This doesn't last forever!
Simpson will kick off his 2012 ASP World Title campaign at the Quiksilver Pro Gold Coast, which holds a waiting period from February 25 through March 7, 2012.