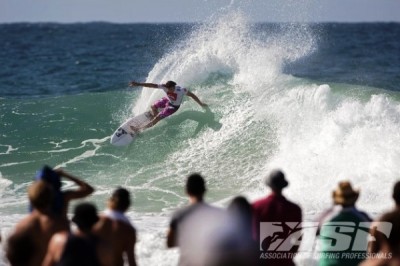 Dane Reynolds (USA), 26, may have failed to requalify for the ASP World Tour in 2012 but spectators will still get to enjoy his extraordinary talents when he lines up as a wildcard for the opening event of the ASP World Title season, the Quiksilver Pro presented by Land Rover, starting on the Gold Coast from 25th February.
The natural-footer from Ventura, California, is regarded as one of the most exciting and creative surfers on the planet, but endured a difficult year on the Tour in 2011 which was badly disrupted by injury.
Reynolds, who finished third at the 2010 Quiksilver Pro before missing last year's event due to injury, is excited by the opportunity to make a competitive return at Snapper Rocks and feels no pressure at the possible prospect of coming up against defending Quiksilver Pro champion and 11-time ASP World Champion Kelly Slater in Round 1 of competition.
Reynolds is one of two wildcards for the Gold Coast event, with the second going to the winner of The Moskova Trials to be held on Friday, 24th February. Other surfers confirmed for the trials include ASP World Junior Title runner-up Garrett Parkes, Japan's Mar Ohno, Brazil's Jesse Mendes and local Gold Coast charger Brent Dorrington.
"I hope it's Kelly. It would be fun," Reynolds said. "I've surfed this event as many times as a wildcard as I have a WCT surfer and the wave can be super fun. It can be barrels or peelers so it's good for everything. I rate it highly."
Slater is a great admirer of Reynolds' approach to surfing previously saying he could be one of the great surfers of all time.
"If you watch a guy like Dane Reynolds, who obviously is one of the greatest surfers in the world, he could end up being one of the greats of all time and technically, right now, he is as good as anyone has ever been," Slater said. "He doesn't hold back in contests."
Although missing the opportunity to regularly compete against them during the year, Reynolds was also excited by the prospect of a highly talented younger brigade – including Owen Wright, Julian Wilson, Gabriel Medina, John John Florence and Kolohe Andino – poised to push the established surfers on the ASP World Tour in 2012.
"Hopefully all of them will step up this year," Reynolds said. "I really dig their surfing."
Both the Quiksilver Pro and Roxy Pro events will be webcast live on QuiksilverPro.com.au, RoxyPro.com.au, Youtube, Facebook and the Quiksilver iPhone app as well as exclusively telecast on Fuel TV. For all the action, interaction, heat alerts, competitions and the latest information visit quiksilverpro.com.au or roxypro.com.au.
Important Details:
2012 Quiksilver and Roxy Pro presented by Land Rover is scheduled for 25th February – 7th March and will be webcast live on quiksilverpro.com.au, roxypro.com.au, Youtube, Facebook and the Quiksilver iPhone app as well as exclusively telecast on Fuel TV
The Moskova Trials will be held on Friday, 24th February with the winner to join surfing's elite in the main event
The waiting period for the contest starts on 25th February. A decision on whether or not to run the contest is made on the day after assessing the conditions. The same goes for each day in the waiting period. Surfing action normally gets underway by 8am
Contest Hotline: +61 7 55993587 updated @ 7am (AEST) daily.
Get more info at quiksilverpro.com.au or roxypro.com.au