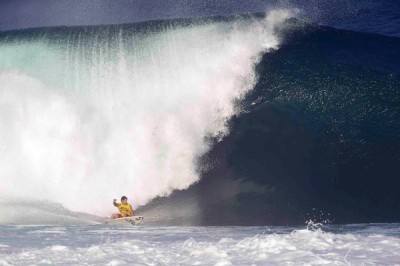 The Banzai Pipeline caught everyone off guard today. Waves doubled and tripled in size from one heat to the next before the opening day of competition at The Volcom Pipe Pro was called off due to dangerous conditions. Only seven heats and three hours of competition were held, yet still sufficient time for injuries, wipeouts and hairball rides to be registered. Waves maxed out in the 15- to 20-foot range.
Kauai's Stephen Koehne, the top-scorer of the day, ended up with a gruesome gash to the knee that could well see him out of the water for weeks. Regular Pipeline chargers Mark Healey and Tom Dosland took the wipeout beatings of the day, and lifeguard/Pipe specialist Dave Wassel was the overall standout.
"I pulled into the barrel and next thing I knew I just got shot in the knee by my board," said Koehne.
Resident Doctor Leiland Dao said it was a serious injury that required 20 stitches or more to three layers: muscle, fascia and skin.
"I was in his heat but I didn't see it happen," said Wassel. "But I saw his leg afterwards. It doesn't look like he'll be walking for a few weeks, let alone surfing. The hole is huge. Lucky it was his leg and not his head.
"It's huge surf and it's non-stop. It's too much surf for Pipeline now and it's supposed to pick up for the next four hours. We were expecting about an 8-foot swell – it's double that and still increasing which makes me wonder how big the swell on Monday is going to be. Good call to call it off. Safety is our number one concern."
Among those to advance from today's abbreviated competition were: Wassel, Oliver Kurtz (USA), Mikey Bruneau (Haw), Derek Peters (USA), and Fisher Heverly (USA).
Organizers expect competition to resume tomorrow as the current swell declines in size, however Surfline.com expects an even larger swell to arrive overnight Sunday for Monday, possibly washing the event out again.
A $130,000 5-star Association of Surfing Professionals (ASP) event, the Volcom Pipe Pro will feature defending champion John John Florence (Hawaii), Josh Kerr (Australia), Bruce Irons (Hawaii, wildcard), Kolohe Andino (California), Tanner & Dane Gudauskas (California), Wiggolly Dantas (Brazil), Joan Duru (France), Balaram Stack (New York), and Hawaii chargers Ian Walsh, Dusty Payne, and Jamie O'Brien.