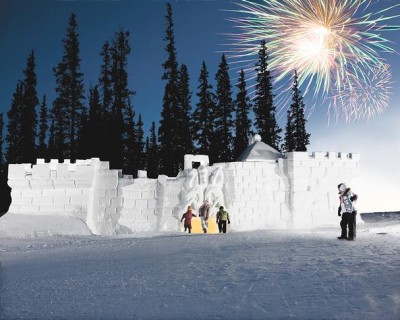 Keystone, CO— Keystone Resort is blanketed in 5" of fresh snow this morning, bringing the resort's 7-day total to more than a foot of natural snow. That's great news for skiers and riders ready to explore some new terrain offerings, as Keystone plans to open the Independence Bowl area on Friday, followed by Keystone Adventure Tours (KAT) cat skiing on Saturday. Today's new hike-to terrain expands the resort's total skiable acreage to more than 1,700 acres.
One of the only cat skiing operations in Colorado, Keystone Adventure Tours is a one-of-a-kind experience that allows skiers and riders to access untouched terrain. Today's new snow will mean tomorrow's first turns should be powder-rific. KAT allows expert skiers and riders to join a guide in Keystone's Independence, Erickson or Bergman bowls, where they'll enjoy unrivaled powder and tree skiing and riding. Full day tours include a delicious lunch, and skiers are outfitted with demo powder skis as part of the tour. New this season, Keystone is offering a KAT 5-day stand-by pass at the incredible price of $500, a savings of more than 50%. The pass gives you access to 5 KAT experiences, including lunch and demo skis daily, on a stand-by basis (reservations can't be made more than 24 hours in advance). These non-transferable passes give you repeat access to some of the best terrain in Summit County, and an experience you won't soon forget. Groups or families wishing to spend the day today, making unforgettable memories in pristine conditions, may buy out all 12 spots on the KAT, with the 12th person included for FREE!
Today's new snow almost means military friends and families will have smiles on their faces, as Keystone Resort welcomes almost 2000 military personnel and their loved ones during the annual SnoFest gathering, January 27-29. Hosted by the Front Range Military Base, SnoFest gives active-duty military personnel the chance to get away, spend time with those they love, and have some fun! Weekend activities go beyond world-class skiing and riding, with special parties, races, a wine tasting, a cardboard derby, non-skiing excursions and much more. Keystone Resort is pleased to welcome this group and thanks the servicemen and women and their families for their daily service and sacrifice.
Keystone Unlocked
With fresh snow once again calling skiers and riders to the mountain, Keystone has introduced Keystone Unlocked, giving fans of Keystone Resort on Facebook the key to VIP treatment. By "sharing" with friends, fans will be able to "unlock" amazing offers from special lodging rates to two-for-one tickets for many of February's most popular events! For exclusive lodging discounts, two-for-one event tickets and resort credits, be sure to "like" Keystone Resort on Facebook!