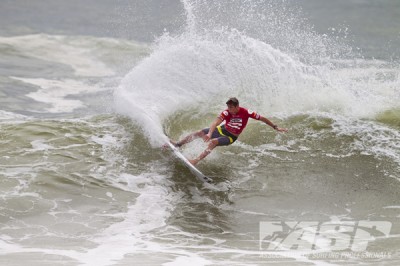 The Australian surfers have been buoyed by their national holiday, Australia Day at the Billabong World Junior Championships Gold Coast today. ASP World Junior Title contenders Jack Freestone (AUS) and Garrett Parkes (AUS) both posted big scores to advance to the next round. While trials winner Wade Carmichael (AUS) did them a huge favour by eliminating the current ASP World Junior number 1 rated surfer, Caio Ibelli (BRA). There's a multitude of scenarios that could play out in the ASP World Junior Title race with 6 contenders still in the running, including the eliminated Ibelli.
While the Australians were in top form today, it wasn't all "green and gold" claiming big wins. International sensations Arashi Kato (JPN), Filipe Toledo (BRA), Nathan Carvalho (HAW) and Conner Coffin (USA) also advanced to the next round of competition thanks to some solid performances.
Wade Carmichael (AUS) caused a major upset after eliminating the number one seed Caio Ibelli (BRA). Carmichael used his power carves, and perfect heat strategy to topple the ASP World Junior Title front-runner.
"I'm pretty frothing!" Carmichael said. "I just wanted to get some good waves and this was the first heat I've had at this contest on the good tide with some nice waves, so it's good to get a win. I just wanted to get a good score early to put some pressure on him, then I was able to find a couple of good backup waves. My jetski nearly flipped and I fell off the back and then I lost priority in the last 30 seconds, so I was pretty nervous, but it all worked out."
Jack Freestone (AUS), the reigning ASP World Junior Champion stamped his authority on this event with massive win over Jack Robinson (AUS), the youngest surfer in the men's draw. Freestone used his full repertoire, throwing down big airs and gouging carves to post two 9-point-rides and clock the biggest heat total of the event so far, 18.00 (out of a possible 20).
"I was feeling a bit nervous going up against Jack (Robinson), because I know what he's capable of," Freestone said. "It was fun to have a heat with him, I've been watching him since he was 10-years-old and I think he's a great surfer. I was excited about the heat too, because there's been a lot of talk in the last few days and I really wanted to get out there and try to beat him."
Arashi Kato (JPN) caused an upset this morning when he defeated Burleigh Heads local, Thomas Woods (AUS). Kato surfed a strong smart heat, by catching the best waves and unleashing some big turns when they opened up.
"I was nervous surfing against a local surfer," Kato said. "I'm very happy to win that heat, the waves are difficult, but they are good if you catch the right ones. I'm very happy to be into Round 4."
Conner Coffin (USA) was another of the day's standout performers, using the long right-handed waves at Burleigh Heads to show the judges his trademark style and eliminated fellow American, Jake Halstead (USA).
"It's always a bummer when you have to come up against one of your friends," Coffin said. "It sucks because I want all the Americans to do well at this competition. I've always liked his (Jake Halstead) fast and powerful style, so it's not fun knocking him out of the event, but that's what happens in competition."
Filipe Toledo (BRA) took to the sky in his Round 3 battle against South African Dylan Lightfoot (ZAF). Toledo launched multiple aerials, mixing grabs and rotations giving the judges the variety that they love to see to advance to Round 4, keeping his ASP World Junior Title hopes alive.
"I just got this Firewire board the other day and it's so good," Toledo said. "I'm just going to take this event step by step, I've got lots of support from friends and family and I just want to thank them and try to keep it going."
Nathan Carvalho (HAW) eliminated the 4th seed and ASP World Junior Title contender Marco Fernandez (BRA) thanks to a smart decision to surf the outside bank.
"That was fun! I decided to stay and surf out the back because the waves were bigger," Carvalho said. "I got a couple on the outside bank and was able to work them through and that's what won me the heat. I heard that Marco (Fernandez) was one of the top seed, but it's anyone's game out there really, you just have to get the good ones."
A call will be made at 7:30am tomorrow for a possible 8am start. Every heat of the Billabong World Junior Championships Gold Coast will be webcast live via www.billabongpro.com