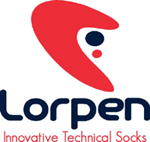 Lorpen, a leading designer and manufacturer of high performance socks for outdoor and sport enthusiasts, has created a new Polartec sock collection with unparalleled technology that surpasses current technical ski socks on the U.S. market. Lorpen has also expanded their exceptionally popular Merino Hiker sock line that now includes Merino Light and Midweight Hikers in both men's and women's styles. All of these new socks will be available at specialty retail stores and online at www.lorpen.com in Fall 2012.
"We are so excited to introduce the first sock available to U.S. consumers that uses Polartec – it is like a softshell for your feet!" says Bruce Barrows, VP of sales and marketing at Lorpen North America. "They have already been tested by some of the most extreme athletes in the world in the most severe weather and terrain. Now, we are bringing this advanced performance technology to outdoor adventurists and weekend warriors so they can continue to achieve their goals in comfort, whether it be hiking, skiing, climbing or trekking."
NEW POLARTEC SOCK COLLECTION
Lorpen is the first to offer such advanced high performance socks with Polartec technology to the outdoor market. These socks have been designed for the hardcore wintersports adventurist who experiences extended cold weather. Made with Polartec, Power Stretch and Lycra, the socks are uniquely engineered with flat lock seams (vs. a traditional knit sock) and are specifically created for warmth and comfort. The Polartec Power Stretch fabric gives the socks great elasticity and the Power Dry technology helps transfer moisture away from the foot and adds cushioning.
POLARTEC SKI ULTRALIGHT
Materials: Polartec Power Dry and double layer of Power Stretch
Left/Right specific
Colors: Black, Orange
Availability: Fall 2012
MSRP: $49.99
POLARTEC SKI LIGHT
Materials: Polartec Power Stretch
Not Left/right specific
Colors: Red, Black and Royal
Availability: Fall 2012
MSRP: $59.99
In addition to the Polartec collection, Lorpen's popular Merino Hiker sock line is expanding to provide new designs and construction of the Merino Light and Midweight Hikers for both men and women.
MERINO LIGHT HIKER (TMLW / TMLM)
This new sock, made from 75% Merino wool, 15% Nylon, and 10% Lycra, is super soft and durable, providing excellent performance in a wide range of conditions and terrains. With the highest level of detail, the Merino Light Hiker is designed with a flat toe seam to eliminate abrasion, the perfect combination of merino wool for softness, and just enough Lycra to keep socks snug and in place. Available for both men and women in Fall 2012. MSRP: $16.99
MERINO MIDWEIGHT HIKER (TMW / TMM)
Lorpen's new Merino Midweight Hiker will give great comfort, softness and durability to those hikers in colder climates. Made with 75% Merino wool, 15% Nylon, and 10% Lycra; the high content of merino wool makes this sock extremely soft but durable. Similar to the Light Hiker, the Midweight Hiker also has a flat toe seam to eliminate abrasion just enough Lycra to keep socks snug but offers a bit more cushioning and warmth. Available in both men's and women's style and sizing, these socks will be available in Fall 2012. MSRP: $17.99