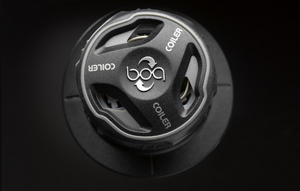 Boa Technology's H3 High Power Platform was named an ISPO Award Nominee in the Action Ingredients category today by the ISPO Award committee. The ISPO AWARD is a seal of approval for innovative new sporting goods and is a respected global industry trend indicator. Award nominees and winners will be on display at the ISPO Munich tradeshow taking place January 29 to February 1, 2012.
The H3 system, featured on the new Vans Infuse and Salomon Synapse and other snowboard boots, is Boa's seventh-generation snowboard reel platform. It delivers high-precision, watch-like resolution for achieving a truly customized fit.
"Our engineers and designers have been rethinking snowboard boot closure systems for over 10 years," says Vin Connelly, Global Category Manager at Boa Technology, maker of the award-winning, patented Boa Closure System. "The result is the Boa H3, which is part of a high-power closure system that provides riders with unparalleled security and micro-adjustability to improve performance and comfort. Partner brands appreciate the H3 system's improved design, smaller size, no special tools required and our proven Coiler option to quickly take up access lace that is exclusive to Boa.
The Boa Closure System is found of one third of the world's snowboard boots and provides performance benefits lauded by professional snowboarders worldwide. Since 2010, Boa has sponsored a team of eight pro riders, including X-Games slopestyle medalist Eric Willett of the U.S. (who wears the Vans Cirro Boa Boot) and freerider Fredrik Evensen, of Oslo, Norway (who wears the Head 5 Star Boa Instep Grasp).
While Boa is the most durable and reliable closure system on the market and backed by the Dialed In For Life Guarantee, the H3 dial requires no special tool for on-the-fly repair or maintenance in the backcountry or resort. Rather, it involves a simple twist-and-remove, twist-and-insert-replacement process.