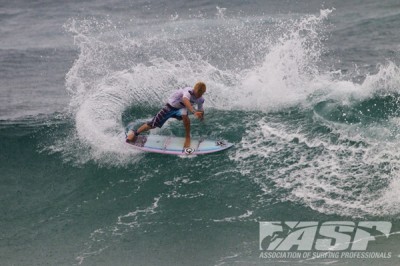 The rain poured, the wind howled, but that didn't stop the world's best junior surfers from putting on a show and the Billabong World Junior Championships Gold Coast today. The young men took to the stormy seas to do battle in the 3 foot (1.5 meter) waves at Burleigh Heads for the completion of the Men's Round 2 and the first 2 heats of Round 3.
Dylan Lightfoot (ZAF) from Jeffreys Bay, South Africa, put his pointbreak experience to good use at the Billabong World Junior Championships this morning. In the challenging conditions Lightfoot selected the best waves and attacked the best sections, sending Kalani David (USA) packing.
"We can get conditions like this at J-Bay," Lightfoot said. "There are some really fun waves out there if you get the right ones. I love surfing right-handers, I'd say it's my strength. It's a relief to get out of that second Round, I was pretty disappointed for getting into it in the first place, but the positive is getting to surf at Burleigh more because it's hard to get waves freesurfing out there."
Evan Thompson (USA) looked at home in the tough conditions at Burleigh today, despite hailing other side of the world – Jacksonville, Florida. Thompson posted the highest heat total of the day to easily advance to Round 3 where he'll face Matt-Lewis Hewitt (NZ).
"We only get wind swells where I live, so this is normal for me," Thompson said. "Windy, choppy, sloppy, bumpy, is what I surf all the time, so it kind of feels like I'm at home. I was nervous before that heat because I had a bad first Round heat, but after I got one good score all the pressure went away and I had fun."
Arashi Kato (JPN) survived a close heat against South African Michael February (ZAF). The two surfers were evenly matched, both managed to post a couple of scores in the good range, but it was Kato who found the highest scores and booked a Round 3 berth.
"The conditions are really hard right now, with wrong winds, but I'm very happy to be into Round 3," Kato said. "I like to surf this kind of waves, and I hope to do well at this event."
Andrew Doheny (USA), the 6th seed in the Billabong World Junior Championships Gold Coast used his world renowned laid-back, stylish approach to progress to Round 3 where he'll take on Beyrick De Vries (ZAF).
"It's a lot like onshore day at Lower Trestles out there, so I felt right at home," Doheny said. "My favourite kind of surf is stormy stuff so I'm really stoked, these waves are really fun for me. It's great to make it through that heat."
A call will be made at 7:30am tomorrow for a possible 8am start. The Billabong World Junior Championships Gold Coast will be webcast live via www.billabongpro.com