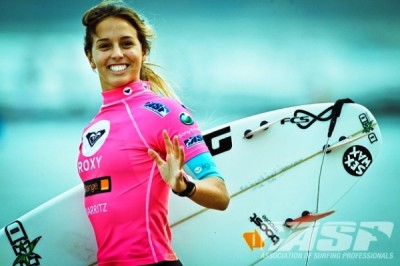 ASP Women's World No.2 Sally Fitzgibbons remains confident she will be fully fit by the start of the Roxy Pro presented by Land Rover at Snapper Rocks on the Gold Coast on 25th February despite carrying several injuries.
Fitzgibbons was on the Gold Coast this week nursing a fractured wrist and strapping along her left leg.
The 21-year-old Australian from Gerroa in NSW fell awkwardly on the reef while surfing Cloudbreak in Fiji before Christmas, and knee and foot injuries were sustained during training.
"I guess leading into the new season I do look a little battered and bruised, it's unfortunate but injuries are part of the game," said Fitzgibbons, who finished third at last year's Roxy Pro.
"There isn't much time left but I'm very confident of recovering in the next week or so and I will have a good few weeks lead-up into the first event.
"I just fell on the reef surfing at Cloudbreak and fractured my wrist and the knee is basically sustained injuries from training. It was just through finding that balance of how hard to push it in the pre-season as you want to build that great base and unfortunately I tipped over the edge but I'm still learning.
"It was unfortunately just before Christmas when I fell on the reef so I've had a whole summer of sweating and training out of the water, but I suppose it is good to be relaxed and resting and then have a good few hard weeks to build back up."
Fitzgibbons' off-season wasn't all about setbacks, however, taking the chance to experience several new activities including plunging to new depths.
"I learned how to snowboard and Red Bull took us on a free diving course over in Hawaii," she said. "It was a surf survival specific program that elite free divers formulated with big-wave riders.
"We had a go and it is amazing the things you can do when you learn about the physiology of holding your breath and been in those panic situations. To be able to hold your breath for about four minutes 40 seconds was amazing and going to the depths we did."
After two runners-up finishes in the past two years, Fitzgibbons feels ready to break through for her maiden World Title, but is preparing for a massive challenge not only from the established front-runners but a bunch of determined rookies.
"I feel like I'm gaining more strength and becoming more comfortable on tour and hopefully it's onwards and upwards as I have so much I want to improve on this year," she said.
"Obviously Carissa (Moore) being the reigning World Champion and Steph (Gilmore) as four-time World Champion will always be there, but I think this year there will be a major push from the new rookies.
"I love starting the new year at the Roxy Pro at Snapper. It is one of those events that I've always wanted to win. There is something about the vibe… it has a great atmosphere with the people on the rock, it feels like a little amphitheater and what better wave to start the year off than Snapper."
Fitzgibbons is also happy to embrace the Association of Surfing Professional's new Anti-Doping Policy, which will be activated for the first time this year.
"The new doping laws are great for surfing to be recognised alongside other mainstream sports," she said. "I've been part of anti-doping programs from an early age of about 15 or 16 through athletics and other sports so anything to keep the sport clean and fair is a positive and to show the public that it's a c lean and healthy sport."
Both the Quiksilver Pro and Roxy Pro events will be webcast live on QuiksilverPro.com.au, RoxyPro.com.au, Youtube, Facebook and the Quiksilver iPhone app as well as exclusively telecast on Fuel TV. For all the action, interaction, heat alerts, competitions and the latest information visit quiksilverpro.com.au or roxypro.com.au.
The 2012 Quiksilver and Roxy Pro presented by Land Rover is supported by Events Queensland, Corona, Telstra, Schick Hydro, Peters Drumstick, Red Bull, Olympus Cameras, Vegemite SurfGroms, Lipton Ice Tea, Sharpie, Surfing World magazine, Coastalwatch, Gold Coast Airport, Gold Coast City Council, Connecting Southern Gold Coast, World Safaris and Fuel TV.
Important Details:
2012 Quiksilver and Roxy Pro presented by Land Rover is scheduled for 25th February – 7th March and will be webcast live on quiksilverpro.com.au, roxypro.com.au, Youtube, Facebook and the Quiksilver iPhone app as well as exclusively telecast on Fuel TV
The Moskova Trials will be held on Friday, 24th February with the winner to join surfing's elite in the main event
The waiting period for the contest starts on 25th February. A decision on whether or not to run the contest is made on the day after assessing the conditions. The same goes for each day in the waiting period. Surfing action normally gets underway by 8am
Get more info at quiksilverpro.com.au or roxypro.com.au