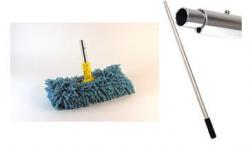 Marine cleaning products manufacturer Swobbit has introduced a microfiber washing tool specially designed to clean smooth fiberglass, plastic enclosures and acrylic without marring the surfaces.
The unique tool has hundreds of microfiber strands that hold more soapy water than other washing tools to clean surfaces faster and more efficiently. It is adapted to the Swobbit swivel plate that attaches to the patented Swobbit Perfect Pole. MSRP for the microfiber washing tool is $29.95.
For more information about the new Swobbit microfiber washing tool and other Swobbit marine cleaning products including wash brushes, drying mops and complete boat cleaning kits, visit www.swobbit.com or call 1+203.453.3090.