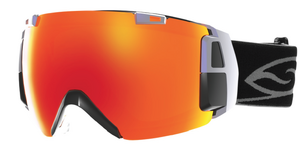 Information is everywhere. With the new I/O Recon you can have it all right in front of your eye. Next generation GPS technology is seamlessly integrated into a new, distinctive I/O frame design, maximizing field of view, helmet integration, and lens interchangeability. Digital information and interchangeable lenses have never been easier to experience.
GOGGLE FEATURES
Medium/Large Fit
Quick Release Lens System
Spherical, Carbonic-X Lens with TLT Optics
Patented Vaporator Lens Technology with Porex Filter
5X Anti-Fog Inner Lens
Includes 2 Performance Mirror Lenses
Ultra-Wide Silicone Backed Strap
3-Layer, DriWix Face Foam
Includes Microfiber Goggle Bag and Protective Hard Case
MOD LIVE FEATURES
Speed, Jump Analytics, Vertical, Altitude, Distance, Location and
Temperature
Averages and Maximizes
Chrono Tracker and Run Counter
Smart Phone Platforms (MOD LIVE only)
Navigation (MOD LIVE only)
Resort Points of Interest (MOD LIVE only)
Buddy Tracking (MOD LIVE only)
Text Messaging and Caller ID (MOD LIVE only)
Music Playlist Management (MOD LIVE only)
US/Canada and EU Charger (MOD LIVE only)
KEY TECHNOLOGIES
5X ANTI-FOG INNER LENS
The most advanced anti-fog lens ever created. Building upon the hydrophilic, micro-etched surface area principles of our Fog-X lenses, our revolutionary, new 5X Anti-Fog inner lens has been engineered to provide over five times the absorptive properties of anything on the market. Initial testing showed standard anti-fog lenses fogging between 30-50 seconds. Smith's proprietary, 5X Anti-Fog material withstood fogging for over 120 seconds in controlled lab tests.
PATENTED VAPORATOR LENS TECHNOLOGY WITH POREX FILTER
The most advanced thermal lens ever. Patented Vaporator silicone seal creates an airtight, bomb-proof seal, eliminating lens delamination. Coupled with out patented Porex filter, the thermal lens adjusts to air pressure and elevation changes while preventing water vapor entry.
TAPERED LENS TECHNOLOGY (TLT TOPICS)
"Objects in lens are exactly the same as they appear." When light passes through a medium it refracts, i.e. changes course. If left uncorrected, this refraction can cause visual distortion and eye fatigue. Smith's Tapered Lens Technology straightens out the incoming light rays by progressively tapering the lens from the optical center toward the peripheral view. What this means for you is that you see with 100% accuracy and maximum comfort.
SPHERICAL CARBONIC-X LENS
Smith has set the standard in lens performance. Each one is individually molded to offer optimum scratch and impact resistance, increased visual acuity and enhanced contrast sensitivity. The inner lens is impregnated with our Anti-Fog lens treatments for increased anti-fog performance. The Carbonic-X lens meets Class 1 optical standards as well as ANSI Z80.3 standards. There is simply no better lens.
3-LAYER, DRIWIX FACE FOAM
Increased density in base layer foam reduces hot spots helping form a tighter seal on the face. Mid-layer foam provides a plush comfortable layer, perfectly sealing on the face and absorbing sweat and moisture. Fleece lining is soft against the skin for long-lasting comfort.
MSRP:
$650 with 2 Performance Mirror lenses
Lens Packages include: Ignitor/Blue Sensor, Green Sol-X/ Blue
Sensor , Red Sol-X/Red Sensor, and Polar Rose Copper/Red
Sensor
More at www.smithoptics.com