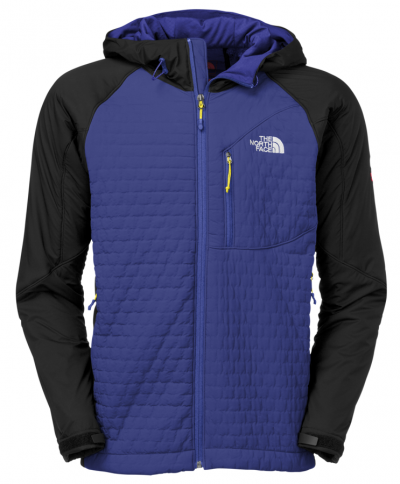 In the fall of 2012, the world's leading outdoor apparel manufacturers will introduce a multitude of new garments featuring the latest Polartec fabric creations. From new ultra-wicking baselayers, to new insulation products that offer real weather resistance without sacrificing breathability, to the most effective waterproof breathable jackets on the market, to high performance eco-friendly recycled fabrics, Polartec continues to offer the world's most innovative performance fabrics.
Award-winning Polartec NeoShell, the most breathable waterproof fabric on the market, continues to gain momentum with 66North, Alpine Pro, Alpinus, Cloudveil, Direct Alpine, Eider, EMS, Flower Gloves, Flylow, HiMountain, Lafuma, Malachowski, Mammut, Marmot, Montura, Nepa, NFM, Rab, TAD Gear, Ternua, The North Face, Under Armour and Westcomb all using the fabric in fall 2012 collections. Development in the Polartec NeoShell line continues to expand the offering to include new textures and weights for 2013 and beyond.
Award-winning Polartec Power Shield Pro (the highly weather resistant and breathable soft shell fabric) is being used by 66North, Alpinus, Easymain, Eider, Mammut, MEC, Millet, Norrona, Outdoor Research, Patagonia, Rab and The North Face.
Both Outdoor Research and The North Face have pioneered the use of a new Polartec Power Shield fabric with a high loft back that's both 25 percent warmer and 25 percent lighter than any other Polartec Power Shield fabric, making it possibly the warmest, lightest, most compressible softshell fabric on the market. Melding the warmth of a puffy with the protection of a softshell, the Outdoor Research Lodestar Jacket and Pant, and The North Face Polar Hooded Jacket are built for ice and alpine climbing in cold climates. With the Lodestar Jacket and Pants, Outdoor Research is blending this new fabric with Polartec Power Shield Pro in critical areas that require even more weather protection. With the Polar Hooded Jacket, The North Face has employed a new version of Polartec Thermal Pro that is sandwiched between two woven fabrics for increased warmth and breathability where it's needed most.
Patagonia is introducing an apparel collection made of new Polartec Power Shield Stretch Woven fabrics, which are single layer woven fabrics that deliver excellent weather protection, high breathability and lasting durability for harsh use. The Alpine Guide Jacket and Pants, Guide Pants, Mixed Guide Hoody and Pants, and Backcountry Guide Pants use these new fabrics to make bomber climbing or touring apparel with increased abrasion resistance and enhanced durable water repellency even after abrasion, thanks to Polartec's proprietary Hardface technology.
Patagonia has also redesigned their Capilene 4 Expedition Weight baselayers with a new Polartec Power Dry High Efficiency fabric. The result is Patagonia's warmest and most breathable synthetic baselayer designed to keep you dry and comfortable in cold conditions. Polartec Power High Efficiency, a version of the popular Polartec Power Dry fabric designed to keep your skin dry when you sweat, is differentiated with a grid back that maximizes warmth, minimizes weight and enhances breathability. Polartec Power Dry High Efficiency fabrics weigh less, take up less space, and deliver more insulation and breathability than most other fabrics in their class. Oakley and ski brand Armada are using similar versions of the fabric in fall 2012 collections.
Polartec continues to reduce waste and increase the amount of recycled content used in production, with over 50% of 2012 domestic production estimated to be recycled. Together with partner brand Norrona, Polartec has built fabric using REPREVE 100 yarn from recyclable plastic bottles deposited in Norway last spring to make Polartec Wind Pro fabric which will be available to consumers fall 2012 in Norrona's /29 warm4 Up-Cycled Jacket, Norrona's most breathable, windproof and weatherproof fleece jacket.