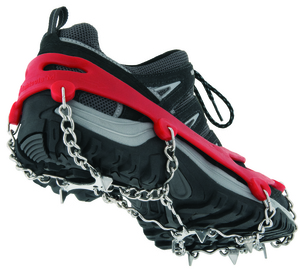 Kahtoola's MICROspikes has been honored as a recipient of a 2012 Backpacker magazine Editors' Choice Award, the most prestigious award in the outdoor industry, given annually to products in recognition of their outstanding innovation in design, materials and/or performance.
Backpacker Editor-In-Chief Jonathan Dorn and his staff of editors and testers presented Kahtoola with the award at the annual Outdoor Retailer Winter Market in Salt Lake City, Utah on Thursday, January 19th.
The Backpacker Editors' Choice Awards, bestowed annually since 1993, honor the products that Backpacker editors have chosen as the best of the year based on months of trail testing by teams of highly experienced hikers and climbers. With no set categories for the awards and no set number of recipients, the products and the testing process drive the award categories.
The MICROspikes was one of only 13 innovative products that have been honored with a 2012 Backpacker Editors' Choice Award. Built to provide traction on everything from wet rocks to icy trails, Kahtoola's MICROspikes are lightweight, flexible, and slip on to any shoe or boot; allowing you to get where you need to go with ease and precision.
"BACKPACKER gear reviews have many imitators, a few competitors, and no equals," said Editor-in-Chief Jonathan Dorn. "That's because no other magazine or website conducts in-depth field-testing as vigorously or impartially as the crew led by Gear Editor Kristin Hostetter. With a core team that has several centuries of combined trail time, along with first descents, decades of retail experience, and expertise in every backcountry discipline, Kristin puts new products through an unprecedented level of real-world abuse in every terrain and weather imaginable. She also oversees a transparent process that has earned an unrivaled amount of trust from readers, retailers, and manufacturers. The results are reviews that lead consumers to smart, durable products that consistently prove their worth with years of best-in-class performance."
"I can speak for all of us at Kahtoola by saying how thrilled we are to hear the MICROspikes were chosen for this award," said Danny Giovale, Founder, Kahtoola. "The criteria for this speaks directly to the things we strive for in all of our products – gear you can rely on for demanding outdoor adventures that stands out from the competition."
The Backpacker Editors' Choice Awards are the gold standard against which all outdoor products are measured, and are a seal of approval that can help put an outdoor company or product on the proverbial map. Each year at the Outdoor Retailer show, retail buyers use the awards announcements as a must-buy shopping list, knowing that their customers will be asking for these products in the spring.
Since their inception, the Backpacker Editors' Choice Awards have come to be regarded as the most sought-after award for outdoor equipment and apparel found in the industry. The impeccable outdoor credentials and rigorous field-testing standards of the Backpacker staff guarantee that these awards are an undisputed mark of quality for the companies and products selected.