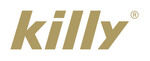 Killy, the French based premium ski apparel manufacturer, proudly announces the re-launch of the brand, with a revived inspiration, new design team, and technical advances in materials and fabrication. The expanded collection is set to premier in the US at SIA 2012 (booth 1042) including a cocktail party open to all show attendees at the close of the opening day, Thursday January 26th, at 4:30pm.
The 2013 collection is the first with new head designer, Aurore Calmier, formerly of Rossignol and Fusalp. Calmier has developed a line that is much broader than in previous years with 50 iterations, and includes an extended après-ski collection. Both the men's and women's lines pull inspiration from the personality traits of its creator, Jean-Claude Killy – passionate, demanding, innovative, and charismatic. Colors and materials used to build the collection are in-line with what is being seen on today's fashion runways, such as jewel tones, metalics and fur for women, and rich colors and structured cuts for men.
The women's collection includes pieces that are fashion forward and fitted to accentuate the female figure. All pay close attention to detail, with unique touches such as double collars, removable belts, removable fur by zip and magnets, brushed metal zippers, and ribbed stitching.
The men's line has been designed for the gentleman who is a skilled skier and is sophisticated in nature – a modern approach to masculinity, with pieces that are technical, functional, and stylish. Technical advances include use of the ultra-breathable (between 30,000-50,000grs) membrane, Dermizax NX, of which Killy is one of only four brands in the world to be granted use. Fine details such as the brushed metal Killy logo adorned on each jacket, give the collection the refined look that Jean-Claude Killy is known for.