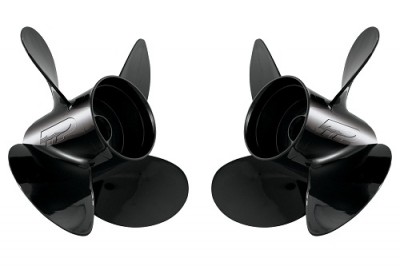 Boat owners running dual outboards or sterndrives can now have a high-end, 4-blade aluminum prop that delivers top speeds and handling better than 3-blade props in the market.  The Hustler from Turning Point Propellers is available in left- and right-hand rotation models for twin engine applications.  Utilizing a unique blade design, it delivers performance superior to other aluminum and stainless steel models.
Most 4-blade propellers offer a trade-off – better hole shot and handling, but a reduction in top speed.  The Hustler's unique blade geometries instead enhance performance and efficiency.  For an enviable hole shot and cornering with a bite, two opposing blades use a variable rake and aggressive pitch design.  The opposite two have an offshore-style design for optimum speed and stern lift.  A high flow-through barrel exhaust system further increases horsepower and top end speeds.
Turning Point utilizes squeeze casting in its manufacturing for ultra-strong, thin and stiff blades that produce maximum thrust.  This process generates the highest mechanical properties in an aluminum cast product.
Prop changes are quick and easy with Turning Point's cost-saving 500 Series Hub Kit System, backed by an industry leading lifetime warranty.  This makes it simple and economical for owners to carry a set of spare props.  All Hustler models are finished with a five-step, powder-coat process to combat corrosion.
Offered in 14-1/2 x 17, 14 x 19 and 14 x 21 configurations, the Hustler 4-Blade Aluminum Left- and Right-Hand models from Turning Point have a suggested retail price of $129.  The 500 Series Hub Kit System is $47.
Turning Point has been engineering, manufacturing and marketing high-performance, pleasure craft aluminum and stainless steel propellers for more than 15 years.  Its innovative products are available worldwide through an extensive family of dealers and retail outlets, which can be found on the "Find a Dealer" section of its website at www.tpprops.com.