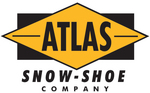 Atlas Snow-Shoe Company, the leader in performance snowshoes, introduces sharp new designs and updated features on the newly redesigned Atlas and Elektra 9 and 8 Series snowshoes at Outdoor Retailer Winter Market 2012, booth #34101. Ideal for winter trails, the new 9 and 8 Series snowshoes are designed for comfort, durability, and ease-of-use.
Built on Atlas' proven aluminum V-Frames and featuring quiet Nytex decking, the new 9 and 8 Series offer the recreational snowshoer superior durability and Atlas comfort. Complementing the tried and true Atlas DNA, patent-pending Free-Rotating Suspension allows for natural articulation, a free and easy stride, and unparalleled freedom of movement on a variety of winter trails.
The new Atlas and Elektra 9 Series snowshoes were built to explore winter's rolling terrain:
 Comfortable new Wrapp Trail bindings with smooth strap routing cradle the foot securely.
 Atlas' signature Free-Rotating Suspension lets the binding rotate, freeing up the stride and reducing tail flip.
 Men's and women's-specific 6061 aluminum V-Frames provide natural articulation of the foot over uneven and sidehill terrain.
 Forgiving Nytex Decking offers superior durability.
 The tempered steel Twin-Trac Toe Crampon and Heel-Cleat add control for confident strides.
Atlas 9 Series available in 25" and 30"' lengths. Elektra 9 Series in 23" and 27" lengths.
MSRP $169.95
The new, easy to use Atlas and Elektra 8 Series provide comfort and confident footing for all-day trail walking:
Free-Rotating Suspension for a free and forgiving trail walking stride.
Ergonomically designed 6061 aluminum V-Frame for men's and women's-specific strides.
Men's and Women's no-hassle Strapp bindings provide excellent arch support.
Forgiving Nytex Decking offers superior durability.
The tempered steel Twin-Trac Toe Crampon and Heel-Cleat add control for confident strides
Atlas 8 Series available in 25" and 30"' lengths. Elektra 8 Series in 23" and 27" lengths.
MSRP $139.95