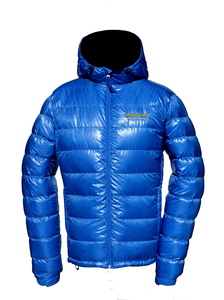 Brooks Range Mountaineering Equipment, known for its high-quality mountaineering gear and accessories, is pleased to introduce the Mojave Jacket, the first jacket to use the new DownTec water-resistant down technology. The DownTec technology is a treatment that makes the down impenetrable to moisture. The jacket will be on display at the Brooks Range booth (#8050) at the Outdoor Retailer Winter Market in Salt Lake City, Jan. 19-22, 2012. The Jacket will available to consumers in specialty stores and online at www.Brooks Range.com in fall 2012 and will retail for $299.
"Until now, down has been recognized as the best weight to warmth rate insulator, with one major drawback: its susceptibility to moisture," said Jeff Blakely, general manager of Brooks Range Mountaineering Equipment. "The Mojave jacket changes all that with its high-quality 800-fill down that will better withstand the elements. Starting next fall, outdoor enthusiasts can enjoy the benefits of down regardless of wet conditions."
The Brooks Range Mojave Jacket is a high-performance 800-fill jacket that features DownTec technology with down that has been treated to make it impenetrable to moisture. A micro-thin nano polymer is applied to the down, creating a water repellent, anti-microbial, anti-bacterial insulation that actually floats on water. The result is a down feather that feels like regular down and repels water while maintaining its loft and insulation value, even in the wettest of conditions. It also maintains it ability to breathe, which is a key factor for comfort. The shell of the Mojave Jacket is made of lightweight but durable Pertex® Quantum fabric making it the ideal jacket for outdoor enthusiasts no matter what Mother Nature has in store.
Brooks Range has also expanded it's existing Cirro collection and will be introducing additional outerwear items with synthetic PrimaLoft One insulation.
The Cold Foot Hoody uses a combination of Polartec fleece fabrics creating a lightweight and durable jacket that can be used in all weather conditions. Polartec Power Shield Pro is applied to the "high wear" areas including the shoulders and chest. The Polartec Thermal Pro adds a high level of breathability to the core, making this jacket ideal for high aerobic activities in colder weather. The Cold Foot Hoody also features two chest pockets and hand warmer pockets. Colors: Dk Blue/Charcoal/Positive Red/Charcoal, Black/Charcoal. MSRP $184.95
The new Cold Foot Vest can be worn as outerwear or as a solid mid-layer piece. Featuring a combination of Polartec Power Shield Pro and Polartec Thermal Pro makes for a vest that is warm, lightweight, breathable and durable. The elastic armholes reduce bulk and heat loss. The Cold Foot Vest also features a chest pocket and hand warmer pockets. Colors: Dk Blue/Charcoal/Positive Red/Charcoal, Black/Charcoal. MSRP $149.95
Building on the success of the original Cirro Jacket that was introduced in 2011, the Cirro Extreme Jacket uses multiple layers of PrimaLoft One insulation that allows the wearer to stay warm in the harshest of weather. The shell is made with and Pertex Quantum fabric which is lightweight but extremely durable. The Cirro Extreme Jacket also features a helmet-compatible hood, two chest pockets and hand warmer pockets. The elastic wrist cuts down on bulk and is very comfortable under gloves. Colors: Black, Gold, Dk Blue, Grey. MSRP $234.95
The Cirro Vest is a lightweight, versatile vest that can be worn as an outer shell or as a great mid-layer piece. The Pertex Quantum shell fabric is ideal for layering because of its smooth texture, and the PrimaLoft One insulation makes it very warm, yet lightweight and packable. The Cirro Vest features elastic armholes, a chest pocket and hand warmer pockets. Colors: Black, Gold, Dk Blue, Positive Red. MSRP $134.95
A first for Brooks Range, the Cirro Pants are lightweight insulated pants that can be worn alone, or over regular pants if it gets really cold. The Pertex Quantum shell fabric and PrimaLoft One insulation allow the pant to be very lightweight and the long side zips allow for easy on/off, without having to take off boots. The Cirro Pants feature two hand pockets, ½ length side zips, a snap/zip opening and an elastic waist. Color: Black. MSRP $189.95
"Each year we have expanded our outerwear collection because the consumer response has been so positive and energetic," continued Jeff Blakely. "The Cirro Jacket was quickly our top seller for apparel for 2011, so it is an obvious choice to expand the collection and give our consumers more choices when it comes to insulation, weights, styles and materials. We are thrilled with the new pieces and think that both our retailers and consumers will appreciate the new looks for 2012."
The BR Suit uses a combination of Polartec fleece fabrics that allow this power stretch suit to be worn in a variety of different, but harsh conditions. Polartec Power Shield Pro is used in the chest, knee and seating areas for added protection when worn as an outer layer. The BR Suit features two chest pockets, elastic armholes and a full wrap zipper. The elastic waist and tapered ankles reduce the bulk for added comfort. Color: Black. MSRP $179.95
Brooks Range will also be expanding its popular Alpini sleeping bag collection with the addition of the new Alpini 45° down sleeping bag.
Alpini 45° Sleeping Bag –The Alpini 45° is the most recent addition to the family of Brooks Range Alpini sleeping bags (also available in 0°, 15°, and 30°). This ultra lightweight bag only weighs 1 lb, 6 oz and features the highest quality 850+ down fill. The goose down is sandwiched between lightweight Pertex Quantum fabric that allows the down to fully loft and a draft tube that ensures maximum thermal efficiency. The Alpini 45° bag features a cloak hood, lightweight baffle netting in the hood and foot sections, a full-length side zipper for easy in/out, and an internal storage pocket. Dimensions: 72" regular (78" for long), 62" chest width, 58" hip, 42" foot width. Color: Grey. MSRP: $239