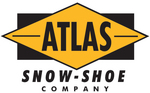 Atlas Snow-Shoe Company, the leader in snowshoe innovation, introduces the newly redesigned Speed Series snowshoes. The all-new Race and Run snowshoes will debut at Outdoor Retailer Winter Market 2012, booth #34101.
Atlas engineers drew inspiration from the experts of the Atlas Racing Team in the complete redesign of the Speed Series. The new Race and Run snowshoes provide a new bar of performance in running snowshoes, designed for those who refuse to settle for second. Utilizing ultralight materials like titanium and 7075 aluminum, Atlas has developed their lightest snowshoes to date, while maintaining the durability seen throughout the line.
"Having raced on Atlas snowshoes for more than 15 seasons, I've seen them evolve to become state of the art, lightweight and top-performing running snowshoes," said Adam Chase, captain of the Atlas Racing Team. "There's a reason you see them at almost every snowshoe event: they are easy to use, durable, superlight and practically exude energy."
FEATURES:
LightSpeed Bindings – New LightSpeed Pro and LightSpeed Bindings are the lightest bindings Atlas has ever constructed, developed to hold the foot securely and ensure exact placement on technical trails.
Spring-Loaded™ Suspension – Atlas' signature suspension system offers natural articulation of the foot for an uncompromised running stride.
Speed V-Frames – Crafted from durable and lightweight aluminum the Speed V-Frame shapes are designed to prevent frame clipping while still providing maximum flotation.
Nytex Decking – Lightweight and flexible, Nytex decking ensures the durability that trail running demands while effortlessly shedding snow for an easier stride.
Atlas Race: 7075 Aluminum Speed V-Frame, LightSpeed Pro Binding, Titanium Toe and Heel Traction, 22"
SRP: $319.95
Atlas Run: 6061 Aluminum Speed V-Frame, LightSpeed Binding, Aluminum Twin-Trac™ Toe Crampon with heel cleat, 22"
SRP: $209.95