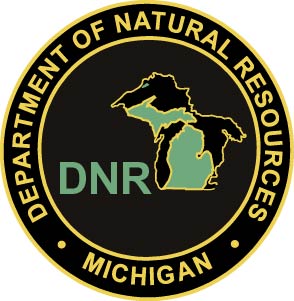 Ludington State Parkin Mason County is offering a Go Get Outdoors free snowshoe trek on Saturdays, Jan. 14 through Feb. 18, weather permitting. These 1-1/2-hour guided snowshoe/nature/history programs will take visitors through LudingtonState Park's snow-covered sand dunes. Two treks will be offered each Saturday. Start out from the Warming Shelter located next to the parking lot at the end of M-116 at 3 p.m. or try the Moonlight Trek at 7 p.m. The park has 40 pairs of snowshoes to loan out on a first-come, first-served basis. Loaner snowshoes fit visitors ages 10 years old to adult. Reservations are not required.
Park staff will be on hand to help novice trekkers with their snowshoes and getting started. Participants are advised to dress warmly, wear good-fitting winter walking shoes or boots, and bring a flashlight if attending the Moonlight Trek.
"Snowshoeing can be done by anyone at any age. One hour of moderate walking in snowshoes can burn up to 750 calories, and the sport is one of the safest winter activities," said Allen Wernette,LudingtonState Park interpreter.
LudingtonState Parkis located at 8800 W. M-116 in Ludington. For details, call Wernette at 231-843-9261.
Snowshoe hikes and cross-country ski events are taking place this winter at many state parks across Michigan. To learn more, visit www.michigan.gov/gogetoutdoors.
A Recreation Passport is required for all vehicles entering LudingtonState Park. The Recreation Passport has replaced motor vehicle permits for entry intoMichiganstate parks, recreation areas and state-administered boating access fee sites. This new way to fund Michigan's outdoor recreation opportunities also helps to preserve state forest campgrounds, trails, and historic and cultural sites in state parks, and provides park development grants to local communities.
Michigan residents can purchase the Recreation Passport ($10 for motor vehicles; $5 for motorcycles) by checking "YES" on their license plate renewal forms, or at any state park or recreation area. Nonresident motor vehicles must still display a valid nonresident Recreation Passport ($29 annual; $8 daily) to enter a Michiganstate park, recreation area or state-administered boating access fee site; these can be purchased at any state park or recreation area, or through the Michigane-Store at www.michigan.gov/estore. To learn more about the Recreation Passport, visit www.michigan.gov/recreationpassport or call 517-241-7275.