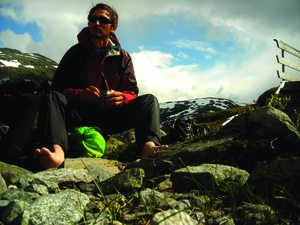 FITS Socks Co., the maker of the best FITting socks available, with Full Contact Fit TM is proud to announce today, that they have signed Justin Lichter as Athlete and spokesperson for the brand. Justin has been a fan of the Brand since its launch. He tracked 800 miles in one pair of FITS Hiker socks in the Himalayas last summer 2011, (part of a 2500mile trek) and plans to get close to 1200 mile per FIT sock in the future.
FITS has the expertise and Justin has the testing ability and feedback. Together FITS socks will continue to offer the best possible, fit, function and performance socks available in the specialty outdoor and snow markets.
"Hands down this is best sock I have ever worn, and I have worn a lot of sock over thousands and
thousands of miles." Justin Lichter-Professional hiker.
Logging more than 30,000 miles in 10 years alone, Justin is an ideal tester and spokesperson. He hales from New York and has since lived in Santa Barbara, CA, Southern VT, Dillon, CO, and currently resides in Truckee, CA. When not hiking, he is a ski patroller. Enjoys backcountry skiing, nordic skiing,snowshoeing, surfing, mountain biking, and anything outdoors.
Since 2002 he has hiked these 30,000 miles world wide. In 2002 doing a cross-country map and compass trip through the canyon country of southern Utah, in 2003 hiking from Georgia to Cap Gaspe, Quebec following the Appalachian Trail and International AT, 2004 hiking the Pacific Crest Trail from Mexico to Canada and then the Pacific Northwest Trail to the Washington coast, 2005 the Continental Divide Trail from Mexico to Canada then continuing on the Great Divide Trail from the Canadian border up into northern Alberta, from 11/1/05 to 10/23/06 completing the Eastern Continental Trail (Cap Gaspe, QC to Key West, Florida, incorporating the AT), Pacific Crest Trail, and Continental Divide Trail in under a year, a total of over 10,000 miles, and in 2007 a traverse of the Southern Alps and the South Island of New Zealand. The list keeps going but you get the point. You can see more information and the post- 2007 trips on his website, www.justinlichter.com.
Why did Justin pick FITS?
"After trying out a pair on my recent traverse of the Himalayas I was very pleasantly surprised. I asked to try a few more pairs and every pair exceeded my expectations. The fit and durability are unmatched!" "I first heard about FITS thru my good friend Allyn Morton is the rep for fits in the Southeast. He gave me a pair to try because he wanted me to let him know what I thought about the socks. My feedback is important to him since the southern half of the Appalachian Trail runs through his territory."
What do I think makes them different?
"Without getting into the nitty gritty…they live up to their name. They fit amazingly! A bad pair of socks is one that you'll never forget. Your feet will be hating life. A good pair of socks is easily forgotten. FITS lives up to this motto. You don't even know you are wearing them, even after 20 days without machine washing them they feel incredible."
How do I want to contribute to FITS?
I would like to help FITS in as many ways as possible. I look forward to helping design and test new
models and helping raise brand awareness. I am a believer in their work!
"In every walk with nature one receives far more than he seeks." John Muir