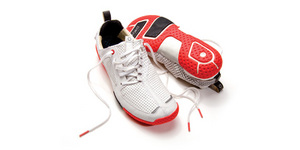 Focused on crafting the best running shoe ever, SKORA rolls out the revolutionary BASE and FORM zero-drop performance running shoes in early 2012.
SKORA builds each shoe on their custom R01 platform including the anatomically correct REALFIT last. Designed to fit like a 'second skin', the R01 mimics each of the foots many contours as it moves. With a zero-drop (no heel rise) midsole/outsole and a curved profile in both the forefoot and heel SKORA's performance running shoes allow for natural movement allowing you to "Run Real".
"SKORA was founded with a true passion for running and a commitment to excellence in product and performance. The BASE and FORM truly are the best running shoes ever, and we're so excited to finally be sharing them with our customers," said David Sypniewski, Founder and CEO of SKORA Running.
BASE ($125) is an innovative synthetic option offering high tensile stretch mesh sockfit upper and SKORA's distinctive X-strap closure system. Minimal upper overlays, and durable mesh construction provide a lightweight, full-foot fit with or without socks. Available in blue and silver, men's size 8-12.
FORM ($195) is a full leather performance running shoe with optimal fit and maximum running function.Pittards Armor-Tan Goatskin leather and WR100X Sheepskin leather lining promote breathability and durability. Pittards leathers are remarkably soft and supple, and remain so even after getting wet, for a luxurious and comfortable feel. With asymmetrical lacing, and secure, wrap-around tongue construction, the FORM wears like a second skin. Available in black and natural, men's size 8-12.