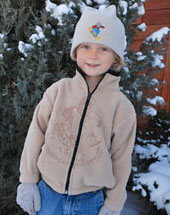 Encouraging an early start to an active lifestyle, Multisport Journeys, LLC (MSJ) introduces an expanded line of pint-sized performance apparel for kids. MSJ now offers an extensive line of customizable kids apparel for babies, toddlers, youth and teens. From infant onesies to kindergarten sized t-shirts and girly teen tees, performance wicking tees, polo shirts, hoodies, fleece jackets, vests and hats, MSJ has a rainbow spectrum of colors and styles to outfit the whole family.
Now kids can play along with mom or dad in the outdoors in apparel that proudly proclaims their favorite activities to their playmates by choosing an activity-based image or cluster of images to print on their own unique piece of apparel. MSJ's website makes it easy to engage kids in selecting their own favorite image on their chosen clothing item, or for parents and grandparents to custom order gifts for their favorite kids.
MSJ was recently picked by the editors of the popular online women's community SheKnows.com, as one of four eco-friendly products to help those whose New Year's resolution is to be kind to the environment. Targeting women ages 18 – 54, SheKnows attracts more than 50 million unique visitors, with fresh, relatable, endearing content from editors dedicated to providing daily content for women seeking advice, information and a fun take on life. MSJ's line of organic tees and hats fits with the SheKnows community.
"Having learned later in life how crucial work-life balance can be to longevity and health, I feel fortunate now to have consciously made room for plenty of playtime outdoors. Anything I can do to share this with younger generations makes me feel like I'm making a difference," said Sue Field, founder and CEO of Multisport Journeys. "In this day and age, when schedules are packed full and downtime is ruled by technology, I feel it's ever more important to encourage children to play outdoors. As a company, it is important for us to celebrate and encourage the whole family to explore the outdoor lifestyle."
MSJ's original products make great gift items for the kid who has everything, and it all starts with a simple question, "What Do You (or They) Live To Do?"  MSJ offers a continuum of men's and women's casual to technical adventure apparel for adult sports enthusiasts as well. MSJ's artwork collection contains more than 60 sports and travel images representing mainstream and niche adventure sports activities, making it fun for everyone to proclaim their love of the outdoors and the sports that are their passions.