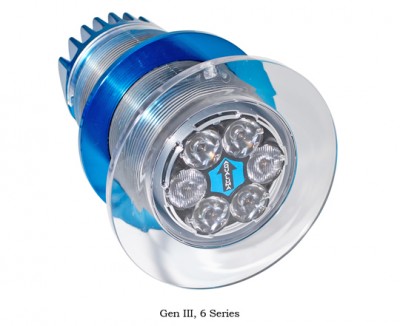 When it comes to underwater lighting, many boaters would agree that the brighter the output the better. Aqualuma Marine Lighting's new Gen III range produces 60% more light than its Gen II range, utilizes the very latest in high-output LED technology and has new, higher-rated drivers. Gen III also features a new corrosion-protected, e-coated end cap designed to dissipate heat.
Special optics provide a deep penetrating and wide flat beam of light for a superb light show. An instant upgrade for current owners, the Gen III fits into Aqualuma's Gen I and Gen II thru-hull housings.
Suitable for 12V or 24V DC power, the new lights are available in brilliant white, ultra blue and ultra green. Like previous generations, Gen III lights are reverse polarity and over-temperature protected.
Each light's outer housing is manufactured from a specially formulated, high-tech polymer, which is lightweight and stronger than polycarbonate. Unlike stainless steel and bronze housings that can deteriorate and leak, the Gen III features patented, one-piece housing that doesn't require a lens seal.
This polymer housing also doesn't need to be bonded to a cathodic protection system. It's chemically resistant and can be fitted with any sealant. An extra additive in the housing minimizes growth on the lens.
Internally driven with plug-in drivers and simple two-wire installation, these lights have no external components to install. The range is serviceable and upgradable without the need for expensive haul-out fees.
Aqualuma's Gen III underwater lights are offered in a 1, 3 and 6 series and come with a 3-year worldwide unconditional manufacturer's warranty.