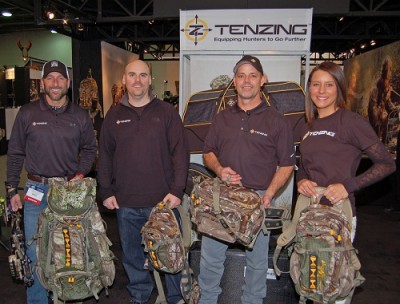 Tenzing is a new line of high-tech, high performance packs engineered to enable hunters to go farther, stay longer, and carry incredible loads in and even bigger ones back out. Plano Vice President of Marketing Bryan Emrich and other Tenzing officials introduced the brand today at the Archery Trade Association (ATA) trade show, giving the archery and bowhunting industry a first look at the full product lineup.
Tenzing packs are constructed from the finest materials available, including the world's strongest fiber Dyneema, and designed to be the lightest, most rugged, finest organized and most versatile packs on the market. The packs are fully adjustable to result in the perfect fit for any hunter.
Veteran hunter and gear expert Jay Robert is the man leading the Tenzing product development team, with his home Idaho backcountry serving as the ultimate testing grounds throughout the prototyping process.
"This project has been a product developer's dream-come-true," said Robert, who has more than 15 years of pack manufacturing expertise and a lifetime of personal pack-use experience. "It is rare to be literally given a blank piece of paper and no instructions other than 'build the best,' but that's really how it all started."
"I'm confident that among the 10 packs we've introduced in this original Tenzing brand product launch, there's a model to fulfill every imaginable hunting niche and need found across North America and most of the world. That was our goal from the start, and no other hunting pack manufacturer in this business can make the same claim."
Tenzing officials (left to right) Cameron Hanes, Bryan Emrich, Jay Robert and KaCey Dixon shared remarks during the brand's official launch at the ATA trade show this morning.
Celebrity hunters Cameron Hanes and KaCey (Struckman) Dixon have been collaborating with Robert throughout the product development process. Both are known for their passion for do-it-yourself elk bow hunts in the wilderness, and for their individual workout routines to keep their bodies and minds just as fit as their shooting skills.
"I'm blown away by Tenzing's attention to details," Hanes said. "I never realized, until now, the difference that a proper fitting pack can make in total comfort and mobility over a long haul. This is a big deal for a performance driven guy like me."
Dixon expressed similar sentiments. "With the way my Tenzing women's pack fits and functions, I've discovered that up until now, I had simply been accepting what I thought was right for me," she said. "It not only carries everything I need in the field, but has earned a permanent place in the fork of the trunk on the right side of my favorite treestand to keep everything in one spot and easily accessible."
The Tenzing product lineup includes models that are full-sized backpacks, lumbar packs, single-sling archer's pack, lightweight daypacks, waist-belt camera bag, fanny pack and the women's-fitted pack.
All Tenzing packs feature advanced strength panels reinforced with Dyneema® for unmatched protection against rips, punctures and failures. Also, all packs incorporate an innovative and expandable storage compartment somewhere in their designs. Another Tenzing family trait is that the main compartment always incorporates yellow zipper pulls and teeth for instant identification and access into it.
Model TZ 6000 is the largest pack in the Tenzing family, and the strongest and lightest of its kind. It weighs little more than 7 pounds, yet serves up a generous storage capacity of 4,400 cubic inches that is expandable to a monstrous 6,013 cubic inches. Especially noteworthy is the pack's expandable, breathable mesh meat pocket that can carry a giant load off the mountain tight against the back in the first trip out, without having to move gear to make room for it.
The women's model TZ 1215W features 1,215 cubic inches of storage space in a streamlined and feather-light 2 pounds, 6 ounces pack that has been specially designed to fit a woman's physique. The pack has nine compartments, including six specialized zip pockets, an H2O reservoir pocket, and a special boot that folds out for hands-free carrying of a gun or bow.
The TZ 1140 is a single-sling archer's shoulder pack that weighs in at just over 2 pounds and offers 1,144 cubic inches of storage space. Its sling adapts to fit over either shoulder, meaning it gives right or left-handed shooters an unrestricted draw. The pack has a quick access quiver mount on the right side to hold today's modern one-piece bow quivers. A side-mounted clip on the left side carries the bow.
All Tenzing packs are cleverly organized to make optimum use of each pack's size. Most models incorporate an H2O compartment with hydration port for a 2-liter reservoir, while the smaller packs have expandable pockets for carrying water bottles.
All Tenzing packs are available in Realtree Max-1 camo patterns, and some also offer Realtree AP as an option. The models range in price from the fanny pack TZ 720 that sells for around $99.99, up to the spacious TZ 6000 backpack that retails for about $399.99.