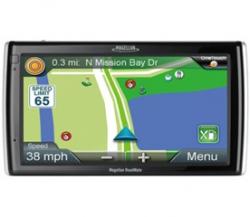 Magellan, a recognized GPS industry innovator providing leading portable navigation and positioning solutions around the world, is set to introduce a new device to its line of GPS navigation products specifically designed for RVers. The RoadMate RV9145 navigator features an extra-large high-resolution 7″ display and customized routing based on a vehicle's profile and driver preference. It comes pre-loaded with the Magellan exclusive Good Sam Trailer Life RV Parks & Campground Directory; maps of the United States, Canada, and Puerto Rico; and, over six million points of interest.
Not only does the unit include many of the features that have made Magellan a recognized name in the GPS industry worldwide, but also our exclusive partnership with Good Sam Club, the world's largest RV owner's organization. The Trailer Life RV Parks & Campground Directory, a must for RVers, includes their Triple-Rating System on more than 11,700 private campgrounds in the U.S. and Canada. Users can easily find sites that have Wi-Fi and Internet access, accommodate big-rigs, are pet-friendly, give Good Sam Club discounts, and other information important to RVers.
"Our new RoadMate RV9145 GPS navigator is the ideal RV travel companion that can make your driving experience safer and more enjoyable," commented Stig Pedersen, Associate VP of Product Management, Magellan GPS. "It was designed with safety in mind, as it provides both customized routes based on the size and demands of the RV, Highway Lane Assist, and turn-by-turn spoken directions that let drivers keep their eyes on the road. To make a good thing even better, the device lets users easily find a Good Sam certified campground and enjoy Good Sam member discounts."
Its extra-large 7″ high-resolution, transmissive screen makes map viewing easier, especially in a low-lit driver's area of an RV. It offers settings and adjusts routes based on a vehicle's height, width, length and weight. Or, the customizable route feature picks the suitable route based on driver preference, e.g., shortest distance, fastest time, using freeways, or not using freeways. Its multi-destination routing capability allows a user to plan an entire trip in one route.
Magellan's exclusive OneTouch user interface lets users personalize their experience with instant access to favorite destinations and searches. External devices, such as a back-up camera, DVD player, or an iPod, can be easily utilized through the convenient A/V input. The unit includes safety features such as Highway Lane Assist that ensures drivers choose the correct lane well before upcoming interchanges and exits, and spoken street names and directions that alert drivers when to make a turn without having to take their eyes off the road.
The Magellan RoadMate RV9145 has an MSRP of $349.99 and is available at consumer electronics stores, mass merchants, and warehouse clubs, as well as online through recognized Magellan distributors. It comes complete with: pre-loaded maps, extension windshield mount, vehicle power adapter, USB cable, AC adapter, and user Quick Start Guide.