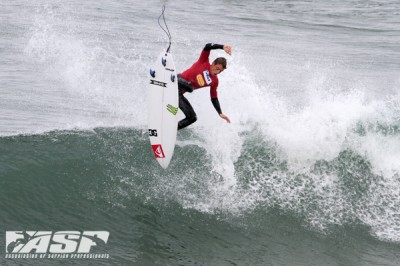 The prevailing onshore winds from the previous days of competition backed off and left competitors with super clean 3 foot (1.5 meter) surf at Jan Juc today for the Rounds of 32 and 16 at the Championship Moves Open and Pro Junior Presented by CHIKO.
Onlookers were entertained all day by the surfers going for broke in the excellent conditions and were witness to huge airs, searing carves and even a couple of interference penalties. With each round that passes the stakes get higher and the surfers are putting it all on the line.
Matt Banting (Port Macquarie, NSW/AUS) stormed into the Quarterfinals of the Championship Moves Open courtesy of a monster air-reverse that scored a 9.25 (out of a possible 10). Banting has been a standout performer throughout the event and will now face Shane Holmes (Central Coast, NSW/AUS) in Quarterfinal 1 when competition resumes.
"I got down there late and all the boys got the inside position, so I didn't get off to the best start," Banting said. "But I knew with this little wind I could pull of an air if I needed to. In my last heat I got a 7.00 (out of a possible 10) for an air, so I knew I could do that if I needed to. Everything came together, it was good. I watched Gabriel Medina (Brazil) a few years ago at King Of The Groms and knew I needed to bring those kinds of airs into my game, so that's what I've been working on."
Shane Holmes (Central Coast, NSW/AUS) was sitting in 3rd position in the dying minutes of his Round of 16 heat, needing a decent score to move to 2nd place and advance to the Quarterfinals. Holmes caught a nice looking wave with two minutes on the clock, and launched into a series of sharp turns, netted the score required, eliminating the number 1 seed, Chris Friend (Sunshine Coast, QLD/AUS) in the process.
"I didn't really get many waves at the start, but I knew I needed a score," Holmes said. "A good little wave popped up and I gave it all I had and got there in the end. I'm pretty stoked to be in the Quarterfinals, I've never surfed in a man-on-man heat before and I'm looking forward to it."
Oney Anwar (Lakey Peak, IND) survived a close heat to advance to the Quarterfinals. The lead changed multiple times and all four surfers finished the heat with less than 2 points separating their scores.
"It always feels good to win a heat," Anwar said. "But I need to make sure I surf smarter in the next one. I had the lead and took off on a small wave near the end when I should have waited for the sets, but it's all a part of learning. When I get excited and feel good on my board I just like to catch too many waves."
Enrique Ariitu (Tahiti, PYF) will advance to the Quarterfinals thanks to his good surfing and some good luck. Ariitu was sitting in 4th place and time was running out when two of his fellow competitors were penalised with a double interference, Arittu jumped to 2nd position and advanced by a mere 0.20.
"I didn't see what happened, but I'm feeling good to make it to the next round," Ariitu said. "It's hard for me out there because I'm not used to surfing beachbreaks, I've got to get some different boards and surf more breaks like this, but that's why I'm here, to improve my surfing."
The Championship Moves Open and Pro Junior Presented by CHIKO will run from Jan 5th to Jan 9th.
The EVO Women's Pro Junior Presented by Ghanda will run from Jan 5th to Jan 8th.