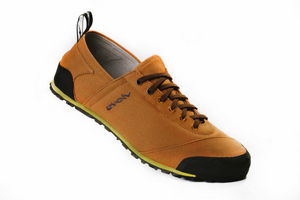 Evolv launched a new approach shoe, the Cruzer, in December. The Cruzer is on-trend with a minimalist platform, cotton upper and sticky rubber outsole.
Jay Peery, evolv's Director of Sales says, "The Cruzer is a great mix of all the strengths of the evolv brand: performance meets style and comfort with a little bit of youthful attitude. We're excited about the Cruzer and this is just the first product in a group of new lifestyle/performance products coming from evolv."
Evolv will also be displaying new rock shoes at OR, including Peter Croft's new high performance trad climbing signature shoe the 'Astroman'.
Evolv will also be hosting poster signings and beer on Thursday 1/19 with evolv athletes Lonnie Kauk and Steph Davis. Saturday 1/21 there will be more beer and a signing with evolv athletes Daila Ojeda and Chris Sharma in booth #1033.