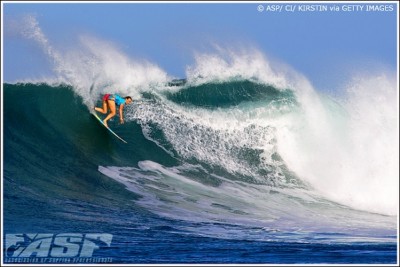 ASP International is pleased to announce the appointment of Jessi Miley-Dyer to the ASP Women's World Tour Manager position, effective immediately.
"We're very pleased to welcome Jessi to the ASP management team as Women's Tour Manager," Richard Grellman, ASP Executive Chairman, said. "In addition to competing against the world's best over the past six years, Jessi has served as surfers' representative and board member and brings a wealth of experience to the position. We're confident that she'll serve the girls well as we work towards stabilizing and enhancing this dimension of our sport."
Miley-Dyer, a former ASP World Junior Champion and six-year veteran of the elite ASP Women's World Tour, is excited about transitioning to the head office and working with the world's best surfers in this new capacity.
"It's an honor to serve the girls on tour right now," Miley-Dyer said. "I've been following the tour my whole life and can confidently say that we've never had such an incredible mix of talent as we do in 2012. It's an exciting time for women's surfing and I'm looking forward to working with the girls this season."
Miley-Dyer will commence her role as ASP Women's World Tour manager immediately. The ASP Top 17 will begin the 2012 ASP Women's World Title season at the Roxy Pro Gold Coast from February 27 to March 7, 2011.
2012 ASP Womens World Tour:
Roxy Pro Gold Coast (February 25 – March 7, 2012)
Rip Curl Women's Pro Bells Beach (April 3 – 9, 2012)
TSB Bank New Zealand (April 11 – 15, 2012)
Commonwealth Bank Beachley Classic (April 18 – 23, 2012)
Billabong Rio Pro (May 9 – 13, 2012)
Roxy Pro (July 10 – 14, 2012)
Nike US Open of Surfing (July 30 – August 5, 2012)
For more information, log onto www.aspworldtour.com.