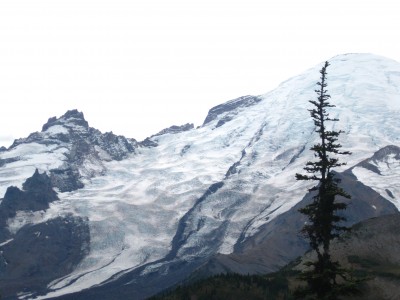 The intensive manhunt on Mount Rainier for the suspect who fatally shot Park Ranger Margaret Anderson January 1 came to an end on Monday. An aircraft spotted a body lying face down in the vicinity of Narada Falls. Searchers on the ground traversed challenging terrain to reach the subject and confirmed his identity as Benjamin Colton Barnes, the suspect in the shooting. Officials confirm that Barnes was found dead.
An investigation into the incident is being led by the Federal Bureau of Investigation with Park Rangers and Pierce County Sheriff's Department assisting. The NPS Western Incident Management Team is en route to the park to assist with planning a memorial service for Ranger Anderson and with ongoing park needs.
"We want to thank the local, state, and federal agencies that assisted in the effort to apprehend Margaret Anderson's killer. It brings tremendous relief and great comfort to know the park is once again safe. We will now work towards reopening the park", stated Superintendent Randy King. He went on to say, "Our thoughts and condolences are with Margaret's family and their tragic loss."
The park will remain closed to the public through Tuesday, January 3.
On the morning of January 1 Park Ranger Margaret Anderson set up a traffic block to intercept a vehicle that had failed to stop at a chain-up checkpoint. The driver opened fire on Ranger Anderson, killing her, and then fled on foot into the woods. Margaret Anderson, 34, had worked at Mount Rainier for 3 years. She is survived by her husband Eric, also a ranger in the park, and two young children.
Mount Rainier National Park has been closed during the hunt for the gunman, with the park evacuating park visitors to get them out of potential danger. There were 125 visitors in lock down at the Paradise Visitor Center from Sunday noon until 3:30 a.m. Monday. They were escorted out of the park in small groups of five vehicles, escorted by law enforcement officers. There were also 25 visitors at the National Park Inn at Longmire who were evacuated out of the park. Visitors had been held at these locations for their own safety.
Approximately 200 personnel were involved in search operations on Monday, January 2. Agencies participating in the search effort include Pierce County Sheriff's Department, Federal Bureau of Investigation, Tacoma Police Department, Washington State Patrol, Customs & Border Patrol, Department of Homeland Security, U.S. Forest Service, Pierce County Fire Districts, Lewis County Sheriff's Department, Enumclaw PD, Portland PD, Seattle PD, Snohomish PD, National Park Service rangers, and law enforcement officers from other jurisdictions as well. Resources included K-9 Units, armored vehicles, helicopters and fixed-wing aircraft.