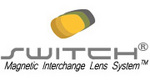 Switch Vision has been named the exclusive eyewear of the East Coast Adventure Racing Series (ECARS) founded by American Adventure Sports. The ECARS is the premiere Regional Adventure Racing (AR) Series in the United States. As part of the partnership between these two active and inovative companies, Switch Eyewear will provide their patented magnetic interchangeable lens frames for AR National Champions TeamSOG and the top teams at each race in the series.
The East Coast Adventure Racing Series was founded in 2010 by the East Coast Coallition. This group of race directors includes American Adventure Sports, Odyssey Adventure Racing, Rev3 Adventure, G.O.A.L.S, and N.Y.A.R.A. Since then, their line up has expanded to include partnerships with Untamed New England and Gung Ho Adventure Racing. The 2012 series will provide well over $50,0000 in cash and prizes for their participants to duke it out for.
As part of the partnership, the American Adventure Sports retail locations and eCommerce channels will be offering the full range of Switch Vision frames. Switch Magnetic Interchangeable Lens System offers frames ideal for a full range of athletics avalible in Rx and a variety of light management systems. These frames offer total versatility, function and design that is simutaneously flexible and durable, making them ideal for adventure racing, travel, and leisure activities.
"We could not ask for better sunglasses for our clients", said Doug Crytzer, Owner and Founder of American Adventure Sports. "We're thrilled to offer racers a pair of sunglasses boasting lens kits they can change in literal seconds, it is so important to have the right eye protection both day and night while adventure racing. Our athletes will never go back after experienceing this innovative lens system, I am sure of it."
The ECARS is dedicated to creating a valuable marketing channel for all of it's sponsors by providing specialized film and marketing campaigns, while growing the sport of AR in a positive manner. As part of that effort, Switch Eyewear will act as an in-kind sponsor, providing fifty pairs of their sports performance frames for distribution to winners in the twelve race series and for United States Adventure Racing National Champions, TeamSOG, and we can't forget to mention custom discounts for all participants.
"Switch Vision is extremely excited about our partnership with the East Coast Adventure Racing Series. The athletes that compete in this series of events are the ultimate competitors and they need a Sunglass like Switch Vision that will stand up to the elements that they are competing in", said Anthony P. DiChiara President and CEO of Switch Vision.
The East Cost Adventure Racing Series plans to do a release on the finalized 2012 schedule for the New Year, highlighting a plethura of new races and expanded sponsorships. The full line of Switch Eyewear products will be avalibe at American Adventure Sports retail locations in Indiana, PA and Greensburg, PA along with its eCommerce site www.shopadventuresports.com.