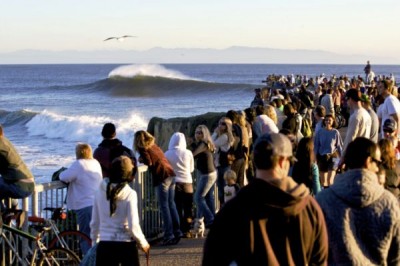 The O'Neill Cold Water Classic Santa Cruz has been confirmed as an elite ASP World Title event for 2012. The world's best surfers will journey to Northern California next November for the 10th of 11 stops on next season's ASP World Title Series.
"We're very happy to confirm the O'Neill Cold Water Classic Santa Cruz as an ASP World Title event in 2012," Renato Hickel, ASP World Tour Manager, said. "Santa Cruz offers a variety of world-class waves for our surfers to perform on and we're hopeful that conditions will deliver for the world's best to do battle in."
The O'Neill Cold Water Classic has a long-standing history of competition, previously as an ASP World Title event (before the two-tier system) and then as an ASP Star and ASP Prime event. Next year's status as a returning elite ASP World Title event coincides with the 60th anniversary of the O'Neill family's contribution to surfing.
"We are excited to see a World Tour level event return to Santa Cruz as part of O'Neill's 60 Year anniversary," Pat O'Neill, President & CEO of O'Neill Wetsuits, said. "Santa Cruz, with its rich surf history and tradition, is the perfect venue for this pivotal event. Mainland surfing started in Santa Cruz, Jack O'Neill developed many pioneering surf inventions here and it's been home to the O'Neill brand for over half a century. Santa Cruz has always been regarded as a true surf community and was named the number one surf town in the U.S. by Surfer magazine. With a World Tour event in 2012 and the possibility of the World Champion being crowned, we expect to see an exciting chapter in surfing history written right in our front yard."
An ASP event for over three decades now, the O'Neill Coldwater Classic has been championed by California standouts such as Tom Curren and Bobby Martinez from Santa Barbara, Kieran Horn, Adam Replogle and Nat Young from Santa Cruz, Richie Collins from Newport Beach and San Clemente's Nathan Yeomans.
Illustrating the global impact of the event, the winners' dais has also hosted international standouts Martin Potter (GBR), Joel Parkinson (AUS), Toby Martin (AUS), Jordy Smith (ZAF), Matt Wilkinson (AUS) and most recently Miguel Pupo (BRA). When the ASP Top 34 hit Santa Cruz next November, you can expect another worthy name to be added to such a historic list.
"Joining the other great events on the ASP World Tour makes celebrating O'Neill's 60th anniversary in 2012 even more exciting," Toby Bost, CEO of O'Neill Clothing USA, said. "With such a prestigious event, coupled with the amazing group of past winners and new crop of incredible talent on the Tour, there will definitely be a lot of anticipation and energy heading into Santa Cruz next year."
The world's best surfers will contest the O'Neill Cold Water Classic Santa Cruz from November 2 – 12, 2012
For more information, log onto www.aspworldtour.com.