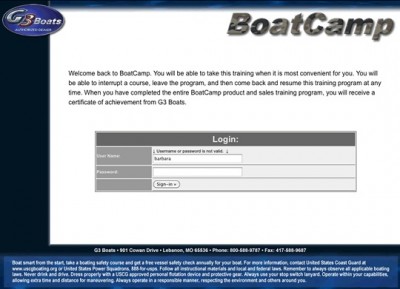 G3 Boats has announced an updated on-line dealer product and sales training program for 2012, titled "Boat Camp." Boat Camp serves as a 24/7 on-line training tool for G3 dealers in the U.S. and Canada, making it convenient for dealers to quickly bring their staff up to date on the latest G3 product innovations and proven sales techniques.
G3 dealers now have on-line access to extensive product training including an introduction to G3, company profile and history, and video factory tour link. There are links to key product video walk-arounds, Yamaha performance bulletins, and website information. There is a feature benefit tutorial for each model and each boat is fully detailed. Many boat profiles include feedback from owners in unique sections called "G3 Mailbox; Voice of the Customer" and "Who fishes out of a G3."
The second level of Boat Camp is focused on sales training, with recorded presentations by Don Cooper (The Sales Heretic), a former Yamaha University instructor. His presentations include:
Needs Analysis – The Key to the Sale
Delivering Powerful Boat Presentations
Closing the Deal
All training has short tests after each section, with questions that must be answered correctly to move on in the training program.
Roger Bills, Marketing Director for G3 Boats said; " G3 Boats is committed to customer satisfaction and to providing the very best in factory support for our dealers across the country. By providing this updated "Boat Camp" staff training program for 2012 to our dealers, we are once again pledging our total support and commitment to our dealers and owners."
"We wish to recognize Britt Thompson, of FishingWorld.com, for his web development and administration of the Boat Camp program."
For more information on the new G3 "Boat Camp" program contact Roger Bills (800) 588-9787 ext: 111 (Corporate) or Stephen Matt (479) 253-8391 (Media)
G3 Boats is a Yamaha-owned boat company and manufactures over 100 models of aluminum fishing boats and pontoons at their location in Lebanon, Missouri. For more information on the entire line of G3 products or to request a catalog, log on to g3boats.com or contact G3 Boats at their toll free number (800) 588-9787.