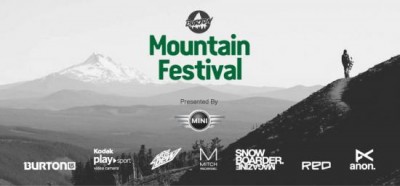 For the first time ever, Burton is launching the Burton Mountain Festival tour, a completely new experience that offers riders a full day of FREE on-snow entertainment, including Burton 2012 product demos, live music, sponsor giveaways, mini parks for the smallest snowboarders and amateur snowboard contests at select stops. Presented by MINI, the Burton Mountain Festival kicks off on December 30th at Copper Mountain and then will travel on to nine additional resorts around the US, which are all listed below.
Dates                                 Location
Dec 30–Jan 1                  Copper Mountain, CO*
Jan 6–8                            Mammoth Mountain, CA*
Jan 14–16                         Mt. Hood Meadows, OR*
Jan 20–22                       Park City Mountain Resort, UT
Feb 3–5                            Northstar, CA*
Feb 10–12                        Keystone, CO
Feb 18–20                       Boyne Highlands, MI
Feb 24–26                       Waterville Valley, NH*
Mar 2–4                           Killington, VT*
Mar 16–18                       Mountain Creek, NJ
Burton Mountain Festival stops will include up to four key elements: Burton Test Ride, Riglet Parks, Pro-Test and live music for an entire day of good times. And while each festival stop will be unique, the foundation of the festival is the Burton Test Ride program, which will be at all 10 stops. Test Ride is where virtually the entire 2012 Burton hardgoods line will be on tap for riders to test at absolutely no charge. Riders can try out a variety of boards, boots and bindings to get a feel for their ultimate set-up.In addition to Test Ride, six of the Burton Mountain Festival stops (noted with an asterisk above) will have a Pro-Test event, which is an amateur snowboard competition for men and women featuring halfpipe and slopestyle contests that will award a total of $7000 at each stop. At every Burton Pro-Test event, riders can also win four wildcard spots to compete in the US Open pre-qualifiers, and all Pro-Test events are 4Star TTR World Snowboard Tour events. A few of the Pro-Test competitions will be extra amazing, including the stops at Killington and Northstar where the contest will run through the Burton Stash parks. Another standout Pro-Test event will be at Copper, which is hosting a New Year's Eve Rail Jam. For complete Pro-Test dates, details and formats, head to http://www.burton.com/pro-test.
For the youngest riders, every Burton Mountain Festival stop will also feature a Burton Riglet Park where kids as young as three can try out snowboarding for FREE. Burton will provide snowboards, boots and bindings sized for the smallest kids to borrow at no charge. Kids will also be able to try out Burton's revolutionary Riglet Reel, a specially designed reel attached to the nose of youth snowboards that makes learning easier than ever. And certified snowboard instructors will help kids learn to ride on mini features like boxes, ramps and rails.Finally, all Burton Mountain Festival stops will feature special après events and live music. Stay tuned to http://www.burton.com/bmf for updates on live music acts and party details as they're announced.