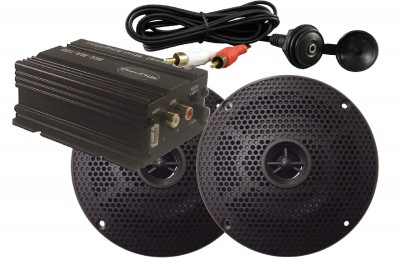 Boat owners don't have to leave their portable media devices on the shore. Prospec Electronics' MILMA100 Package is a complete sound system that lets boaters easily plug in their portable media device and enjoy the tunes without a complicated installation. This package comes with a Milennia MILMA100 amplifier, a SEAMINI2 auxiliary adaptor and two SeaWorthy SEA5582BB marine speakers.
Installation is simple and only requires small cutouts for the speakers and the auxiliary input. The speakers hook into the amplifier while the auxiliary adaptor plugs into an input also located on the amplifier. Now, any portable media device with a headphone jack can be plugged into the auxiliary adaptor and music can be enjoyed.
The MILMA100 amplifier has fully marinized circuit boards to keep salt and corrosion away from the critical circuit path and an onboard high/low filter. The 45 watt peak amplifier is two channel, so two speakers can be hooked up. Featuring a small footprint, its overall size is 4-3/8″ L x 3-3/16″ W x 1-9/16″ H.
Available in black or white, the SeaWorthy speakers offer 75 watts per channel and feature an integral, all plastic grill. Each speaker's overall size measures 5-3/4″ W x 2-1/2″ D x 5-3/4″ H.
Prospec Electronics' MILMA100 Package has a price of $119.95.