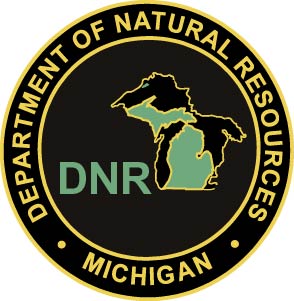 Tahquamenon Falls State Park and Porcupine Mountains Wilderness State Park will host New Year's weekend snowshoeing events, offering a fun opportunity to kick off your New Year's resolutions while enjoying Michigan's award-winning state parks.
"Shoe Year's Eve" will take place at the Porcupine Mountains on Saturday, Dec. 31 from 6-9 p.m. Participants will either snowshoe or cross-country ski on a one-mile loop trail lit with old-fashioned kerosene lanterns. The loop features a warming shelter at the half-way point, where hot beverages and refreshments plus a campfire will greet hikers and skiers. The trail has an "easy" difficulty rating, although skiing or snowshoeing at night is more challenging than during the daytime. Participants should meet at the Superior Loop Trailhead on Hwy. M107 (directly across from the ski hill) at 6 p.m.
"Shoe Year's Day" will take place at Tahquamenon Falls on Sunday, Jan. 1 from 12-2 p.m. Participants will snowshoe around the Upper Falls, following a 1.6-mile marked trail to the falls, then back through the surrounding forest. Hikers will be treated to warm beverages and refreshments. The park's Upper Falls facilities feature heated restrooms and the on-site Tahquamenon Brewery & Restaurant. A limited number of snowshoes will be available to participants for no charge. Please meet at the Upper Falls "Fact Shack" at noon to join the Shoe Year's Day hike.
These programs may be canceled due to weather. To confirm the Shoe Year's weekend events, call the Porcupine Mountains at 906-885-5206 or Tahquamenon Falls at 906-492-3415. For more information about the various winter recreation opportunities at either park, go to www.michigan.gov/dnrvisitorcenters. For directions to the parks and winter camping information, go to www.michigan.gov/porkies or www.michigan.gov/tahquamenonfalls.
The Recreation Passport has replaced motor vehicle permits for entry into Michigan state parks, recreation areas and state-administered boating access fee sites. This new way to fund Michigan's outdoor recreation opportunities also helps to preserve state forest campgrounds, trails, and historic and cultural sites in state parks, and provides park development grants to local communities.
Michigan residents can purchase the Recreation Passport ($10 for motor vehicles; $5 for motorcycles) by checking "YES" on their license plate renewal forms, or at any state park or recreation area. Nonresident motor vehicles must still display a valid nonresident Recreation Passport ($29 annual; $8 daily) to enter a Michigan state park, recreation area or state-administered boating access fee site; these can be purchased at any state park or recreation area, or through the Michigan e-Store at www.michigan.gov/estore. To learn more about the Recreation Passport, visit www.michigan.gov/recreationpassport or call 517-241-7275.
The Michigan Department of Natural Resources is committed to the conservation, protection, management, use and enjoyment of the state's natural and cultural resources for current and future generations. For more information, go to www.michigan.gov/dnr.