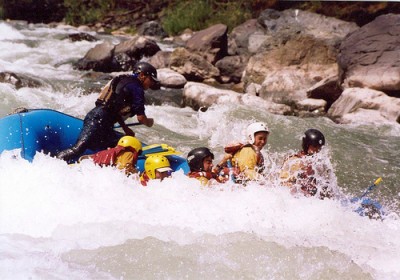 Salt Lake City, UT – The whitewater rafting pioneer with over 50 years of experience, Western River Expeditions (http://www.westernriver.com/), has more than tripled its Colorado River – Westwater Canyon capacity to become the single largest outfitter on this popular stretch of whitewater along the Colorado/Utah border.The capacity has gone from 14 to 63 launches in Westwater Canyon and from 350 to 1,350 user days.
Added capacity means more excursions and date options, says Brian Merrill, CEO. Demand for these trips is up because of a growing trend toward shorter escapes plus the fact that Westwater Canyon was recently named by National Geographic as "the West's best short whitewater rafting trip."
"This was the one stretch of river where we have needed more capacity to meet the demand from our guests. With a launch leaving almost every other day during the prime summer months, we can now accommodate just about everyone's schedule while visiting and vacationing in Moab," says Merrill.
"Last year we took around 350 people; ideally we'll be up to 1,350 this year which now makes us the largest rafting outfitter in Westwater Canyon," he notes. "We accomplished this by buying out just the Westwater operation of Adventure Bound River Expeditions, based in Grand Junction, Colorado.
The Westwater Canyon area was recently recommended by Secretary of the Interior Ken Salazar for Wilderness designation. This means greater protection, specifically with regard to oil drilling in the region.
In Westwater, Western River Expeditions offers full day trips that begin and end at the Moab Adventure Center in Moab, Utah. The age minimum is 12. The day of rafting can also be enjoyed as part of a longer multi-sport package.
A four day/ three night program offers on-river adventures, a Hummer® Safari and optional horseback ride in Utah's famous Castle Valley, a region rife with settings of movies and commercials. Accommodations are at Red Cliffs Lodge on the banks of the Colorado River. Rates are $635 per adult and $595 per youth.
See: http://www.westernriver.com/trips/westwater/
The one-day program is a spirited oar-powered and paddleboat adventure through Westwater Canyon. Guides expertly row through exciting waves and swirling pools dwarfed by stunningly beautiful and unique black, gold and red canyon walls of Southern Utah. Guests hike to historic cabins, mysterious caves and Indian petroglyphs which punctuate the river's course. Class II-IV rapids such as Funnel Falls, Skull Rapid and Sock-it-to-Me provide plenty of excitement while calmer waters on the last part of the river offer a relaxing end to the perfect day trip. The rate is $165 per person.
See: http://www.westernriver.com/trips/westwater1day/