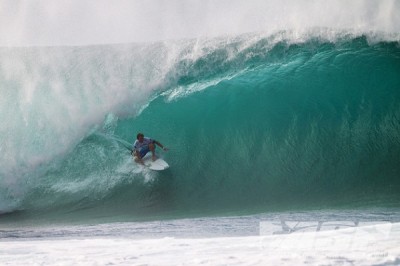 Banzai Pipeline, Oahu, HI – The opening day of the Billabong Pipe Masters witnessed historic 10-to-15 foot (4-5 metre) surf at the iconic Hawaiian barrel of the Banzai Pipeline to complete Rounds 1 and 2 of competition in arguably the biggest surf in the event's history.
The Billabong Pipe Masters, the final stop on the 2011 ASP World Title Series, not only represents a crucial event for ASP Top 34 surfers looking to requalify for the 2012 season, but also marks the third jewel of the prestigious Vans Triple Crown.
John John Florence (HAW), 19, navigated the massive Pipeline lineup with ease to eliminate Maui native Kai Barger (HAW), 22, in a commanding Round 2 performance while securing the first perfect 10-point ride of Billabong Pipe Masters competition. "I got that barrel right off of the takeoff and it pinched and I couldn't see anything," Florence said. "It was really sketchy and then I pulled in to that other barrel. It was fun. The waves were firing. It's the best Pipe has been in so long. There are so many waves that people don't really see. There are ones going underneath and wide ones, they're just everywhere."
Florence, current leader on the Vans Triple Crown ratings, furthered his lead over the field by advancing out of Round 2 and was admittedly relieved to get off to a strong start at the Billabong Pipe Masters. "There is definitely a lot of pressure to do well with all of my friends and family here," Florence said. "I want to do well. I was pretty nervous before that first heat and I'm glad I got it out of the way."
Evan Valiere (HAW), 28, who is competing in the Billabong Pipe Masters as a Hawaiian Wildcard, drove through several Pipe barrels on his forehand to deliver the day's highest heat-total, a remarkable 18.16, out of 20, in his opening heat and eventually went on to solidify a Round 2 victory as well. "There were only a couple of waves ridden, but the ones I got felt good for sure," Valiere said. "It's just so big. There are a lot of waves coming in on the inside, but it's not like you're going on those. When you're out there, it takes a lot longer to get the ones you want. That 9.33 just felt really good. The takeoff always takes longer than you think and once you get to the bottom, you just set your line. Pipeline is the best feeling in the world."
Valiere was another native to contribute to the Hawaiian giant-killing spree of the opening rounds, eliminating ASP Top 34 members Fredrick Patacchia (HAW), 30, and Brazilian rookie Miguel Pupo (BRA), 19, to secure his position in Round 3. "It's unfortunate, I really think Fred's an incredible surfer," Valiere said after his Round 1 win. "I definitely did not want him in my heat out here this morning because I knew he was going to be a major threat. I was just fortunate to get my waves. If Freddy wants to get back on tour he'll get back and do it."
Ian Walsh (HAW), 28, was impressive in his 2011 Billabong Pipe Masters debut, eliminating ASP World Tour surfers Kai Otton (AUS), 31, and Bede Durbidge (AUS), 28, while threading the needle on a massive barrel of his own for one of the day's highest scores, 9.70 out of 10, to advance through to Round 3. "I got pounded and that wave came and it had such a steep tee pee wave on the point that when I took off I was really late," Walsh said. "I had a similar feeling to the wave I didn't make before and I got pounded. I let go of my rail and it sucked back before it spit and I almost didn't make it. When I came out I just had that ecstatic feeling."
Walsh, who is renowned for his big-wave capabilities, was elated to have big Pipeline conditions on offer for this year's event. "You forget you're even in a heat, you're just psyched that you're getting barreled," Walsh said. "This is the real Pipe Masters. It's so fun to watch and it's entertaining for us to surf."
Adam Melling (AUS), 26, current No. 2 on the Vans Triple Crown ratings, was one international competitor to escape the wrath of the event locals by defeating Mason Ho (HAW), 23, in Round 2 of competition. "It's pretty exciting to be in second and have John John just in front of me," Melling said. "Seeing the way he surfed out there today I'd say it's not going to be easy to beat him. I'm just excited to be out there and making heats."
Kieren Perrow (AUS), 34, current No. 25 on the ASP World Ranking and runner-up in last year's Billabong Pipe Masters, is in need of a result at Pipeline to requalify for the 2012 ASP World Tour and is hungry to finish on the podium again this year. "I was really nervous before that heat because I need to do well here to stay on tour," Perrow said. "As the comp goes on it's going to get harder for sure and the guys out there at the moment are pushing the level. I'm just going to go out there and try and get my waves and see if that puts me in first. Hopefully I can go one better than last year."
Event organizers will reconvene tomorrow morning at 7am local time for a possible Round 3 start at 8am.
For all of the LIVE Billabong Pipe Masters in Memory of Andy Irons action log on to www.vanstriplecrownofsurfing.com/billabongpipemasters2011.