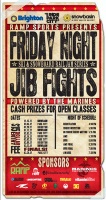 Wasatch Mountains, UT – Brighton, Park City & Snowbasin Resorts welcome a Friday Night Rail Jam Series to the Wasatch Mountains. The Friday Night Jib Fight (FNJF) rail jam series consists of ten rail jams over the course of the 2011-2012 winter season.
"Last season, Park City Mountain Resort and Snowbasin hosted independent Friday night rail jams at each resort, rather than compete against each other we decided to join forces and take the series to the next level," said Jeremy Cooper, Park City Mountain Resort Terrain Park Manager . Jared Winkler, Brighton PR and Marketing Manager, added, "When Snowbasin and Park City Mountain Resort approached me about Brighton joining the series it was a perfect fit, including a Wasatch Front resort will round out the series."
The FNJF series will begin at Snowbasin on December 16th, each resort will host three rail jams over the course of the 2011/2012 winter season, with a final event being held in Park City on March 30th. Each contest will have the same format and similar terrain layout with each resort's terrain park crew adding its own twist. Competitors will register the day of each individual event starting at 4 pm and each contest will start at 5:30 pm. Each event will be $15 to enter with an amateur division competing for prizes and a pro division that has cash prizes.
Jason Dyer, PR and Marketing Manager at Snowbasin, said, "We all decided on a unified format, layout, and organization that are both fun and exciting which people have grown to expect of our resorts."
For a list of full details about the contest, dates, and times visit Friday Night Jib Fights on Facebook: www.facebook.com/fridaynightjibfights.