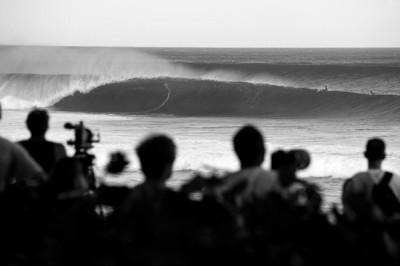 The Billabong Pipe Masters in Memory of Andy Irons, the final stop on the 2011 ASP World Title Series, will commence its waiting period this Thursday, December 8, 2011 and a solid West Northwest swell is expected to see competition get underway in the opening days of the window.
Kelly Slater (USA), 39, clinched a historic 11th ASP World Title at the previous event in San Francisco and the focus for this Billabong Pipe Masters will be the Vans Triple Crown Title (an ASP Specialty Series) and the requalification campaigns of the world's best surfers.
John John Florence (HAW), 18, newcomer to the elite ASP Top 34 after the September rotation, is currently leading the hunt for the 2011 Vans Triple Crown Title after an impressive win at Sunset last week.
Mick Fanning (AUS), 30, and defending Billabong Pipe Masters champion Jeremy Flores (FRA), 23, have withdrawn from competition due to injury and have been replaced by first alternates C.J. Hobgood (USA), 32, and Adam Melling (AUS), 26, respectively.
Due to the expanded competition at Pipeline, the ASP has awarded two wildcard spots to surfers next in line on the ASP World Rankings, Kolohe Andino (USA), 17, and Willian Cardoso (BRA). Both surfers will receive ASP World Rankings points for their campaigns at the Billabong Pipeline Masters.
Billabong Pipemasters Conference:
Who: Kelly Slater, Joel Parkinson, Taj Burrow, Gabriel Medina, Jeremy Flores, John John Florence, Bruce Irons
When: Tuesday, December 6, 2011 – 11am sharp
Where: Surfer Bar, Turtle Bay Resort
The Billabong Pipe Masters in Memory of Andy Irons will run from December 8 – 20, 2011 and will be webcast Live via http://vanstriplecrownofsurfing.com/billabongpipemasters2011.