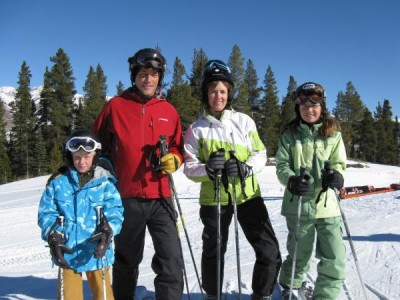 Like building snowmen in your backyard and spending uninterrupted time with loved ones?  Take winter fun to the next level, Rocky Mountain-style, in Gunnison Crested Butte, Colo., where family merriment and total relaxation abounds in 1880s-era towns that are rich in history, charm and friendliness.
Ski Area Fun
Crested Butte Mountain Resort (CBMR, www.skicb.com) offers fun for all ages, even if you don't ski! Of course there are plenty of options to cruise all levels of slopes, parks and pipes, and skiing is free for kids age 6 and under.
The Adventure Park is for all ages with a covered ice-skating rink, bungee trampolines, rock climbing wall and lift-served tubing hill.  New this year is the Crested Butte Zipline Tour, a guided tour that includes five ziplines and three suspended bridges that have been uniquely adapted to be functional in winter. It's one of the only winter canopy tour operations in Colorado.
There's also child care for the wee ones (beginning at age 2 months), not to mention Kid's Night Out from 4 – 8 p.m. for ages 4 – 12.  Dinner and access to the Adventure Park and tubing hill are part of Kid's Night Out activities.
For really magical experiences, cuddle up under blankets for a sleigh ride dinner to the mid-mountain Uley's Cabin pulled by a snowcat or explore snow-dappled forests on daytime and moonlight snowshoe tours.
The Trailhead Children's Museum (www.trailheadkids.org) offers hands-on exhibits and programs in the arts, sciences and creative play for children and families and is conveniently located at the base of the ski area.  New this season are daily drop-off art and science classes provided by The Studio Art School and the Garden to Grocery Healthy Living exhibit.  The museum is open Wednesday through Sunday from 10:00 a.m. – 4:00 p.m., and check the website for special events.  Admission is $6 per person
There are skiing and snowboarding lessons for youth and adults at CBMR, as well as through Adaptive Sports Center (www.adapativesports.org) for family members with physical and/or cognitive disabilities.  ASC has earned a reputation for providing exceptional programming and service and has hosted four families in conjunction with the television show "Extreme Makeover: Home Edition."
Family-Friendly Nordic Center
The Crested Butte Nordic Center (www.cbnordic.org) has cross-country skiing, snowshoeing, ice skating and sledding all in one place. The Nordic Center grooms more than 55k of trails and offers instruction, tours, equipment rentals and many events such as dinner or brunch at the yurt.  Use of the outdoor ice rink and sledding hill are free, and a pass is required to use the groomed trails.
Snow Adventures with Animals
Head out with Fantasy Ranch Horseback Adventures (www.fantasyranchoutfitters.com) for a one-hour ride in the Almont area.  Halfway through the journey, warm up by the fire at Almont Resort with a cup of hot cocoa.  Or there is nothing quite like being pulled by a team of dogs in the thick of mountain terrain capped with snow.  Dog sledding with Lucky Cat Dog Farm (www.luckycatdogfarm.com) is one of those lifetime experiences not to be missed.
Tap into Culture
At the Crested Butte Mountain Heritage Museum (www.crestedbuttemuseum.com), enrich your mind with displays about skiing, ranching, mining, local personalities and more. The Mountain Bike Hall of Fame (www.mtnbikehalloffame.com) also is located in the museum, along with a gift shop that's a hit with all ages.  Nearby, catch a concert, class or art exhibit at the Crested Butte Center for the Arts (www.crestedbuttearts.org) and take in a theatre production presented by Crested Butte Mountain Theatre (www.cbmountaintheatre.org).
Gunnison Getaway
Families looking for less-expensive lodging during the ski season or for an easy excursion from Crested Butte and Mt. Crested Butte, check out Gunnison, home of Western State College.  Gunnison Valley RTA (www.gunnisonvalleyrta.org) buses run several free routes daily between Gunnison, Crested Butte and Mt. Crested Butte.
Enjoy a day at the Gunnison Recreation Center's entire facility for only $4 for kids ages 5 – 17 and $6 for adults; kids under 5 are free.  There is an indoor pool with slides, rock climbing wall, gym, gymnastics room and game room.  You are never too old or young to learn how to ice skate.  Jorgensen Park features three sheets of ice: an indoor NHL-size rink located at the Jorgenson Event Center; Shades for Blades outdoor Olympic-size covered rink; and Pac-man Pond, ideal for young children.  Skate rentals are available at the Event Center, and there is no cost to use the outdoor rink and pond.  For both, visit www.cityofgunnison-co.gov.
Don't miss stopping by the Gunnison Arts Center (www.gunnisonartscenter.org) for entertainment, exhibits and classes.
Wallet-Friendly Family Vacations
With Three Rivers Resort's Family Ski & Stay Package relax in a deluxe mountain chalet on the Taylor River in Almont and enjoy skiing or snowboarding at Crested Butte Mountain Resort for only $93 per person, per night (price is even lower for families with non-skiers or kids ages 12 and under).  The package includes two adult lift tickets and two teen lift tickets (for ages 13 – 17) and is available Dec. 16, 2011 – Jan. 2, 2012 and Feb. 17 – March 25, 2012.  Other dates and combinations are available, and tax is not included in the price.  Valid for new reservations only and must be reserved more than 72 hrs in advance.  Call (888) 761-3474 or visit www.3riversresort.com.
Crested Butte Mountain Resort (CBMR) has three deals that are a great fit for families. For all the details visit, www.skicb.com and call Crested Butte Vacations at (800) 810-7669.
Book a Crested Butte vacation for three or more people and every third airline ticket is free through Friends & Family Fly Free, featuring direct flights into Gunnison-Crested Butte Regional Airport (GUC) on American Airlines, United Airlines and Continental Airlines.  A minimum four-night stay is required and the offer is valid for travel from Dec. 15, 2011 to April 8, 2012.
Kids Fly Free on American Airlines when children (ages 12 and under) are traveling with a parent.  The offer is good from Jan. 4 – March 9, 2012, with certain blackout dates.  Inbound travel from origin to GUC must commence between Sundays – Thursdays. Outbound travel from GUC to origin must commence between Mondays – Fridays.
With a Learn to Ski for Free package, receive a free beginner lesson, lift ticket and equipment rental for each person on the reservation when booking at a CBMR-managed property for two or more days.  The offer is valid for both the adults and kids and is available Jan. 3 – March 9, 2012.