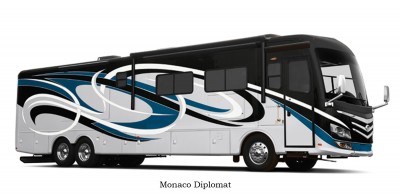 Monaco RVs feature all the cozy amenities of an upscale residence.  The homey feel is enhanced by Aqua-Hot Hydronic Heating Systems.  For consistent warmth and dependable hot water, Aqua-Hot is now offered on additional models.
The Aqua-Hot 400 comes standard on the 2012 Monaco Diplomat and Holiday Rambler Endeavor and the 600 on the Monaco Dynasty. Aqua-Hot systems also are available on 2011 models of the Monaco Signature, Dynasty and Camelot, as well as the Holiday Rambler Navigator and Scepter. "Many customers ask if the Aqua-Hot is available on our RVs," said Laura Fry, Monaco sales and marketing specialist.  "They love the system and would not purchase a motorhome without it.
"Consumer demand is so great because Aqua-Hot offers consistent heating throughout the coach, which is a great improvement over regular heating systems.  And, they have come to rely on continuous hot water." Aqua-Hot's multiple circulation pumps allow for up to five comfort zones.  Heat exchangers disperse heat quietly and evenly.  The tankless system combines domestic hot water and heating in one unit.