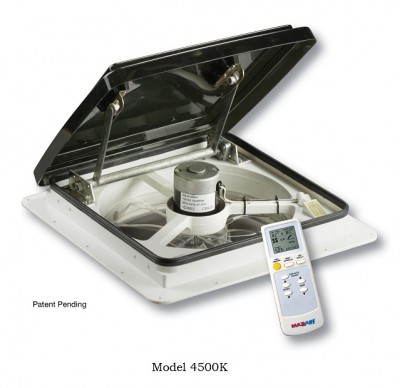 Serving the needs of RVers looking to upgrade their cabin ventilation, MaxxAir Vent Corp introduces the unique MaxxFan Standard, Model 4500K with Remote Control and the MaxxFan Standard manual opening Model 4000K.  The MaxxFan Standard series has several exclusive features like its twin-arm, lid-lifting design that prevents lid flutter in high winds or when driving.
Both models feature a flush-mounted Keypad fan control located on the fan at the ceiling.  This Keypad allows the user to select any of 10 fan speeds, set and adjust the built-in Thermostat and change the air direction from exhaust to intake if desired.   In addition, the MaxxFan Standard series allows the fan motor to run with the lid closed for ceiling fan mode.
Model 4500K includes a Hand Held Remote Control that allows the user to adjust all fan operations from bedside or couch.  The MaxxFan Hand Held Remote Control displays all fan features with a large LCD screen and all commands are answered at the fan with an audible beep.  When not being used the Hand Held Remote enters sleep mode and shuts off to conserve battery life.  Touching any key brings the LCD screen back to life.
Contact MaxxAir Vent Corporation, 5513 W. Sligh Ave., Tampa, FL  33634, USA.  800-780-9893; Fax: 813-876-2550.  [email protected];  www.maxxair.com.  The website has a listing of RV dealerships that carry MaxxAir Products.