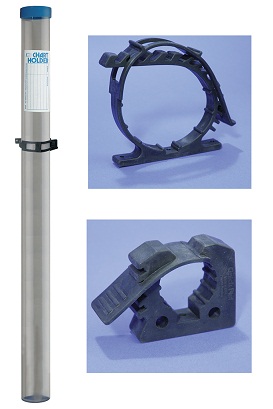 A day of boating or camping can be more enjoyable if all the cool accessories and toys are organized for easy access.  Bringing more fun to the great outdoors, Davis Instruments offers the Quick Fist to securely hold all the extras until they're needed.
Made of heavy-duty, transportation-grade rubber, the one-piece clamp comes in two models to handle many tasks.  The Standard Quick Fist holds up to 22 lbs. and the Super Quick Fist secures up to
50 lbs.  Better than hooks or plastic clamps, Quick Fist cinches tightly and will stretch rather than break.
Marine applications range from securing lines, boat hooks, chart holders or water toys to larger equipment such as fire extinguishers and scuba tanks.  For camping, ATV and off-road use, Quick Fist keeps everything from tent poles and cooking gear to flashlights and fishing rods accessible.
This versatile organizer is UV-resistant, will not rust or corrode and withstands extreme heat or cold.  It mounts easily with #10 screws or bolts.  The Standard Quick Fist holds objects from 7/8″ to 2-1/4″ in diameter.  It comes with two clamps, the base of each measuring 7/8″ x
2-3/4″.  Super Quick Fist secures items from 1-1/2″ to 7-1/2″ in diameter, with a mounting base of 7/8″ x 6″.  Each retails for $12.99.
Contact Davis Instruments, 3465 Diablo Ave., Hayward, CA  94545.  510-732-9229; Fax: 510-732-9188.  [email protected]; www.davisnet.com.