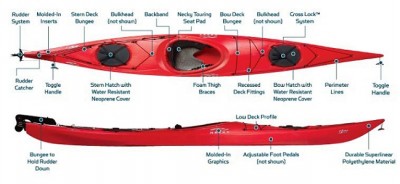 Necky Kayaks, an industry leader in the performance kayak market, is proud to announce that its Eliza kayak has been named 'Best Women's Kayak' in Sea Kayaker Magazine's newly minted Readers Choice Awards. The Readers Choice Awards, featured in Sea Kayaker's December 2011 issue, are based on the results of a six month poll administered through the Sea Kayaker website from January through June 2011.
"Any time you're awarded a Readers Choice award its cause for celebration and to receive this honor for the Eliza is both humbling and inspirational," said Sara Knies, Director of Marketing for Necky Kayaks. "The touring kayak market is a mature one, filled with savvy paddlers who know what they require out of a boat and we couldn't be more pleased than to deliver on our consumer's expectations."
As the magazine points out, 'a good kayak is one that fits' and the Eliza was specifically designed to fit women. The deck of the Eliza is designed to shed water and minimize windage, while allowing better stroke clearance for paddlers with narrower shoulders. Advanced female paddlers can appreciate how the low profile and cockpit dimensions of the Eliza allow flexibility for rolling, bracing, surfing and spirited paddling. One of the lightest production kayaks on the market, the Eliza is both easy to load and a joy to paddle.
Available in a number of models including a new composite with rudder, the Necky Eliza boasts a roomy cockpit, padded thigh braces for superior handling and control, and a Necky touring seat with supportive back band for all day comfort. Other key features include bow and stern hatches with sealed bulkheads, adjustable foot pedals and reflective deck rigging for added safety.
Since the Eliza was first launched, Necky Kayaks has donated 1% of the Eliza gross sales to the Breast Cancer Fund. The Breast Cancer Fund is one of the leading national organizations focused on identifying the environmental causes of breast cancer and preventing the disease.
Necky Eliza kayaks are currently available through authorized specialty dealers throughout the United States and Canada. For more information on Necky's family of kayaks please visit us at www.neckykayaks.com, http://www.facebook.com/NeckyKayaks or http://www.youtube.com/neckykayaks.
Necky® kayaks is part of the Johnson Outdoors family of innovative, market-leading brands. The company designs, manufactures and markets a portfolio of winning, consumer-preferred brands across four categories: Watercraft, Marine Electronics, Diving and Outdoor Equipment. Visit Johnson Outdoors online at www.johnsonoutdoors.com.