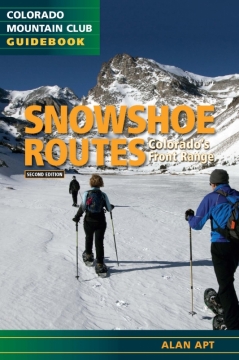 Golden, Colo. – Join Colorado Mountain Club Press author Alan Apt for his snowshoe clinic and book release Thursday, December 1 from 7 to 9 PM at the American Mountaineering Center . The clinic will cover what to wear, how to select or buy snowshoes, what kind of gear to use, and how to avoid avalanches.
The author will also show you great places to snowshoe; with beautiful photos of some of the 80 trails from the just published Second Edition of his bestselling book; Snowshoes Routes, Colorado's Front Range. The first edition has been used by thousands of snowshoers. Apt will show everything from 14er and 13er summit routes, to easy family strolls that you can enjoy this winter. He will also be signing books after the clinic.
To sign up for the free clinic, please visit www.cmc.org/snowshoe. Space is limited.
About Snowshoe Routes: Colorado's Front Range
There are few places in the world with more diverse snowshoe routes than the Front Range of Colorado. Come with author Alan Apt, who has wandered the Front Range of Colorado for over 30 years, and take advantage of his detailed knowledge of the trails that will safely transport you, friends, and family, into winter's backcountry.
A bestseller in the first edition, this second edition includes many NEW trails suitable for everyone, including families with children. You will find short and easy routes, and longer adventures for you, and children of all ages. And for the winter mountaineer, Apt has also included some challenging, spectacular routes on less-hazardous terrain.
Snowshoe Routes: Colorado's Front Range includes excellent revised maps, and detailed trail descriptions, with color photos for virtually every trail. The author has written a snowshoe buyer's and renter's guide that will help you pick a pair of appropriate snowshoes. He has also included safety checklists, so you'll know what to bring and wear, as well as suggestions for staying warm, so you can truly enjoy your day on the snow.
The author has created an excellent reference to places to stay such as huts and cabins. You will also find contact information for key outdoor organizations and the public entities that manage the forest and trails; so you can get the latest information on trail conditions and avalanche risk. Avalanche information is important for safe travel; the author has relevant suggestions and tips that will help make your recreation more hazard free.
Alan Apt has given over 100 snowshoeing clinics up and down the Front Range and is an active snowshoer, skier, climber, and backpacker. Apt is the author of Afoot and Afield in Denver, Boulder, and Colorado's Front Range. He lives in Nederland, Colorado with best friend Nancy and Cara the dog.