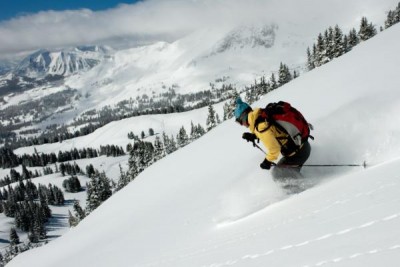 Gunnison-Crested Butte, Colo. November 10, 2011 — There's already plenty happening in Gunnison-Crested Butte, Colo., but its always refreshing to announce new additions that involve rum, sleds, festivals, snowshoes, ziplines and more. However, as big fans of preserving our heritage, we'd be remiss without giving a nod to Gunnison County's rich history.
A Nod to History
Crested Butte Mountain Resort (CBMR) officially opened for skiing in November 1961, and this year's opening day on Nov. 23 will recognize the resort's 50th birthday and the culmination of a yearlong celebration. To honor its golden year, CBMR is offering a free lift ticket valid on Nov. 23, 2011. The opening day birthday celebration includes live music with newgrass great Drew Emmitt (who we are proud to call a local), fun events, a big birthday cake and party favors.
Crested Butte's original ski lodge, the Cristiana Guesthaus (formally the Ore Bucket Lodge), is pulling out all stops for the birthday with its Celebrating 50 Years with 50 Percent Off deal, valid Nov. 22 – Dec. 14, 2011. Combine 50 percent off regular lodging rates and 50 percent off lift tickets at Crested Butte Mountain Resort for an unbeatable ski package. Discounted rooms start at $47.50 per night including breakfast (does not include taxes), and lift tickets are $32 per day. Go to www.CristianaGuesthaus.com or call (800) 824-7899.
Delving into the rich history of Crested Butte, founded in 1880, is as simple as scanning the QR codes posted in the windows of historic buildings on Elk Avenue with a smart phone and linking to descriptions posted at www.GunnisonCrestedButte.com/heritage. This new QR tour launched in June, and historic walking tour brochures and guided tours are available through the Crested Butte Mountain Heritage Museum, www.crestedbuttemuseum.com.
Fun Festivals & Competitions
The inaugural Crested Butte Songwriters Festival, Jan. 12 – 16, will feature performances by several of the best performing songwriters from the world of country music. The festival will revolve around two nights of performances staged at Crested Butte hot spots, where live music bliss will introduce crowds to the faces, voices and stories behind hit songs. Signature in-the-round acoustic performances and rowdy, dance-inducing sets will dominate the schedule, and a benefit concert will be held on Jan. 14. A website and phone number will be available soon.
On Feb. 10 – 12, Yoga Rocks the Butte will feature a weekend of inspiring yoga classes, live outdoor music, organic food, a yoga marketplace and more at multiple venues throughout Crested Butte and Mt. Crested Butte. This new event taps into the area's health and wellness philosophy and brings in experts from around the globe. Early bird costs are $354 with no food included and $415 for a package that includes two all-organic breakfasts and two all-organic lunches. There are also special intensives on Thursday from 1 – 5 p.m. for an extra cost. For more information, call (970) 349–0302 or go to www.yogarocksthebutte.com.
Bundle up and head to Blue Mesa Reservoir near Gunnison for the first-ever 3 Stage Ice Fishing Contest, featuring prizes for overall champion and for each of the three tournaments to be held on the first Saturdays in January, February and March. Jan. 7 is the "RaBroLaPerKo" Series, where participants earn points based on the combined lengths of the single biggest perch, Kokanee salmon, rainbow, brown and lake trout caught. Feb. 4 is the Mac Attack Series with points based on most cumulative inches of lake (mackinaw) trout. March 3 is the Cattle in the Pasture Series with contestants limited to a pre-marked area and allowed to measure one fish per hour with a limit of four trout all day. Check-in for each tournament starts at Pappy's, located at Elk Creek Marina, at 5:30 a.m. with a start time of 7 a.m. and weigh-in by 3 p.m. The cost is $25 per tournament. The series is sponsored by Weekend Warriors Outdoors, Gene Taylors Sporting Goods and Gunnison Country Chamber of Commerce. Call (970) 641-1501 or (970) 641-0707 for information.
Rum & Sleds
Brice and Karen Hoskin have moved their growing, award-winning Montanya Rum distillery from Silverton to Crested Butte. A permanent tasting room and distillery location has opened at 130 Elk Ave. in Crested Butte's historic powerhouse building. Since early summer, a temporary tasting room has been operating at nearby 302 Elk Ave., pouring award-winning, obsessively-crafted high mountain rum via samples and a sizable and distinct cocktail menu. Light appetizers also are served.
The Montanya Platino recently won a gold medal at the 2011 Ministry of Rum Competition in San Francisco, making it the seventh gold medal landed by this spirit. Montanya Oro also has received its fair share of recognition with numerous silver medals. Visit www.montanyadistillers.com for information and great drink recipes or call (970) 799.3206. Daily hours are 11 a.m. – 8:30 p.m.
The Hoskins also relocated Mountain Boy Sledworks, the United State's premier maker of handmade wooden sleds, www.mountainboysleds.com. Locally, the sleds are sold at the Crested Butte Nordic Center, www.cbnordic.org.
Big Action
The new Crested Butte Zipline Tour at Crested Butte Mountain Resort opened in June and will make its winter debut this season. The guided tour includes five zip lines and three suspended bridges that have been uniquely adapted to accommodate winter operations. It is the only guided zipline tour at a Colorado ski resort, and one of the only winter canopy tour operations in the state. Call (800) 600-2803 or visit www.skicb.com.
With extremely strong pre-bookings for its 2011/2012 season, CS Irwin has added a Powder Cat to its fleet in order to accommodate additional demand for snow cat skiing in neighboring Irwin on big powder days. This second cat holds 10 and will be released 48 hours in advance with reservations on a first come, first serve basis. Email [email protected] to be added to the CS Irwin Powder Cat e-blast, which will alert avid skiers that the Powder Cat will be running in 48 hours. With 738 inches of snow at Irwin last year, there should be no shortage of Powder Cat days.
In mid-December, CS Irwin also plans to open a new retail store in its new location at 330 Belleview Ave. in Crested Butte. The company is partnering with brands such as Mammut, Patagonia and Icebreaker and will carry POC helmets and goggles, Kaenon sunglasses, Hestra gloves and Wagner skis. For more information, visit www.csirwin.com.
The Crested Butte Nordic Center will be offering pre-scheduled snowshoe tours for the first time during the 2011/2012 season on Tuesdays and Fridays from 10 a.m. to 1 p.m. The tours cost $65 per person and will take participants to the beautiful Gothic, Washington Gulch or Slate River areas. The Nordic Center also plans to introduce a marked snowshoe trail amongst its trail system and has assumed leadership of the 15th annual Elk Mountains Grand Traverse backcountry ski race that runs from Crested Butte to Aspen on March 30 – 31, www.elkmountainstraverse.com.
Handy Services
There are many pet-friendly properties to stay with your furry companion while visiting the Gunnison-Crested Butte Valley, but if you need doggy day care or overnight boarding consider the new Waggin' Tails in Gunnison. Grooming and K-9 training also are available, and stop by to shop for high-quality toys, leashes, collars, grooming products and more. Go to www.waggintailsgunnison.com.
Visitor Information & Personalized Vacation Packages
To find out more about Gunnison County or to book personalized vacation packages, call (800) 814-8893, or visit www.GunnisonCrestedButte.com/packages. Find the Tourism Association on Facebook at www.facebook.com/gcbta or follow us on www.twitter.com/gcbta. The Gunnison-Crested Butte Regional Airport is served year-round by United and during the winter season also by American Airlines and Continental Airlines.
About Gunnison County, Colorado
Gunnison-Crested Butte is nestled among almost two million acres of pristine wilderness in southwest Colorado. Winter sports enthusiasts know the area for its world-class alpine skiing and snowboarding at Crested Butte Mountain Resort, snowmobiling, cross-country skiing, snowshoeing and ice fishing. Gunnison-Crested Butte is also a haven for outdoor summer activities. In the warmer months, visitors can choose from recreational activities such as hiking, climbing, mountain biking, boating, whitewater rafting, kayaking, fly-fishing, camping and horseback riding. Year-round visitors enjoy distinctive restaurants, unique shops and stimulating cultural opportunities, and have a wide range of lodging options — from rustic inns to guest cabins and bed-and-breakfasts to full-service resort hotels.
Gunnison, county seat and a real western town, is home to the Gunnison-Crested Butte Regional Airport, Gunnison Whitewater Park, Gunnison Valley Observatory, Pioneer Museum and Western State College, which offers bachelor's and master's degrees in liberal arts and sciences and pre-professional fields. Both Crested Butte and Gunnison have thriving historic central business districts packed with shopping and dining opportunities.
Recognized as the "Official Wildflower Capital of Colorado" by the Colorado Legislature and one of the National Trust for Historic Preservation's "Dozen Distinctive Destinations" in 2008, Crested Butte is 28 miles from Gunnison and the site of rich mining, ranching and skiing heritage and home to the Crested Butte Mountain Heritage Museum and Mountain Bike Hall of Fame. Only three miles up the road is the resort village of Mt. Crested Butte, home to the ski area, an active base area, the area's conference center, and outstanding hiking and biking trails.
Marble is located in the Upper Crystal River Valley along the Elk Mountains and is the gateway to nearby Crystal, home to one of the most photographed mill sites in the country. Marble has seven sites on the National Register of Historic Places and is the location of the Yule Marble Quarry.
In Gunnison County, visitors will find the Curecanti National Recreation Area, where dinosaur fossils were recently discovered; the Blue Mesa Reservoir, Colorado's largest body of water and home to the largest Kokanee salmon fishery in the United States; and The Black Canyon of the Gunnison, one of our country's newest national parks. Gunnison County includes the quaint and historic towns of Pitkin, Gothic, Tin Cup, Marble, Powderhorn, Almont and Crystal, plus the better-known communities of Gunnison, Crested Butte and Mt. Crested Butte. Gunnison County is part of the West Elk Loop and Silver Thread Scenic & Historic Byways.