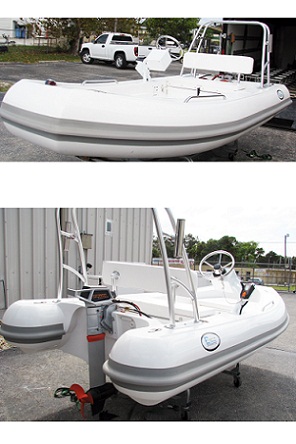 Designed in the style of an inflatable boat, but constructed from fiberglass, Rigid Boats' E Tender is US Coast Guard certified.  To power this unique craft, Rigid Boats owner Art Link, needed the most technologically advanced electric outboard on the market.  His choice, of course, was Torqeedo.
Rigid Boats' E Tender comes with a Cruise 2.0 motor to travel through the water.  "Torqeedo is the best.  We wanted a remote control motor and this motor worked best on our boat," said Link.
In addition to providing more power and range from a given battery supply when compared to similar products, the Cruise 2.0 features extremely helpful user information on its throttle-display.  Data shown includes battery status, GPS-based speed and GPS-based real time information on remaining range.
"Torqeedo's state-of-the-art technology sets it apart from other electric motor manufacturers," continued Link.  "We are very satisfied with the motors and plan to use them on our other boat models, including the 8.5 Sport/Tender, 10 Sport/Tender and 12 Sport/Tender."
The Cruise 2.0 is best for dinghies and sailboats up to 3 tons.  With propulsive power of 5hp, this electric outboard is lightweight at only
37 lbs., yet strong.  The Cruise 2.0 operates on 24V and is fully waterproof.  Environmentally friendly, it can be charged overnight and doesn't require fuel storage.
Offered in 10 or 12 Sport models, the E Tender offers a 100% fiberglass protectant gel-coat, flat, non-skid deck surfaces and a soft rub rail.  A virtually maintenance-free tender, neither Rigid Boats' E Tender nor its electric outboard requires winterization.  A video of the boat in action can be viewed at http://www.youtube.com/watch?v=KBWkN-s1gvw.
Contact Torqeedo Inc., 171 Erick Street Unit A-1, Crystal Lake, IL 60014.  815-444-8806; Fax: 815-444-8807.  [email protected];  www.torqeedo.com.