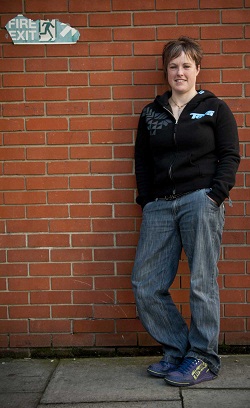 Adventure footwear brand Teva® (a division of Deckers Outdoor Corporation, NASDAQGS: DECK), has announced a partnership with top British women's kayaker Claire O'Hara, who can now claim to be the best female kayaker in the world following her double gold-medal-winning performance at the 2011 World Freestyle Kayaking Championships. At the event, hosted in June in Plattling, Germany, O'Hara won both the Squirt Boat and Freestyle Kayaking events and posted the highest combined score of the whole championships.
Under the terms of the new arrangement with Teva, O'Hara, who already holds five British Champion titles, three European Championship medals and four World Championship medals will act as brand ambassador for Teva as part of its "Teva Tribe". The team includes members representing many of the adventure and adrenaline sports inherent in the Teva brand including kayaking, wakeboarding and mountain biking. O'Hara will also be joining fellow team GB kayaker and world champion, James Bebbington.
"It is brilliant to have been invited to become a full Teva UK athlete," says the the 29-year-old further education sports coordinator from Meanwood, Leeds. "Previously I received help from Teva in the form of gear but now, with their full backing and support, I look forward to representing Teva across the UK, Europe and North America as I compete on the world and European competition circuits. It will be great to act as an ambassador for a company that positively supports and promotes adventure lifestyles and pushing the boundaries of what is possible in adventure sport."
As part of her association with Teva, O'Hara will be competing in the 2012 Teva Mountain Games in Vail, Colorado. The Mountain Games are the USA's largest celebration of adventure sports, art and music. Professional and amateur athletes from around the world converge upon the majestic mountains and wild rivers of Vail to compete in eight adventure sports (including kayaking) and 24 disciplines for more than $100,000 in prize money.
According to Giles Cundell, Teva European Brand Manager, "Claire is a massive kayak talent and truly dominates the scene at the moment. She will be a great ambassador for the Teva brand as she truly lives the lifestyle and lives for the buzz of competition. Together with James Bebbington we have a really exciting and credible presence in kayaking."