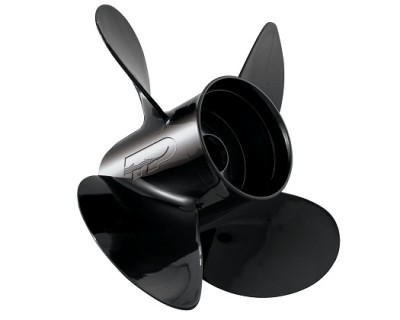 Four-blade propellers provide the qualities ideal for watersports and other high-performance applications.  However, the drawback of most designs has traditionally been a marked reduction in top speeds.  Turning Point Propellers solved this problem with its uniquely-engineered Four-Blade Aluminum Hustler Propeller.
Offering stainless steel performance at aluminum prices, this prop utilizes an innovative combination of blade geometry.  Two opposing blades feature variable rake and aggressive pitch for precise cornering and impressive hole shots.  The other two offshore-style blades maximize stern lift and the all-important top speeds.
Hustler props are squeeze-cast for added strength, and benefit from tighter, smoother grain structures that result in the highest mechanical properties possible in cast products.  Progressive, tuned pitch angles accelerate and channel water to minimize slip and enhance fuel economy.  Tuned rake angles compact the vortex produced by the prop to lift the boat and boost performance.
Increased horsepower comes from a high-flow, through-barrel exhaust system that maximizes exhaust current.  Turning Point Propellers is also the only manufacturer to utilize barrel venting in their aluminum propellers, which increases hole shot and acceleration.
As with all Turning Point props, the Hustler is compatible with Turning Point's cost-saving 500 Series Hub Kit System.  Made with a solid brass spindle and shock-absorbing polymers, the hub's single-piece design makes prop changes quick and easy.
All Hustler props are finished with a five-step, powder-coat process for long-lasting corrosion and impact resistance.  Offered in 14″ x 17″,
14″ x 19″ and 14″ x 21″ sizes, the Four-Blade Aluminum Hustler Propeller from Turning Point has a suggested retail price of $129.  The 500 Series Hub Kit System is $47.
Turning Point has been engineering, manufacturing and marketing high-performance, pleasure craft aluminum and stainless steel propellers for over 15 years.  Its innovative products are available worldwide through an extensive family of dealers and retail outlets, which can be found on the "Find a Dealer" section of its website at www.tpprops.com.
Contact Turning Point Propellers, PO Box 803338 #27855, Chicago, IL  60680.  847-437-6800; Fax: 847-437-6868.  [email protected];  www.tpprops.com.