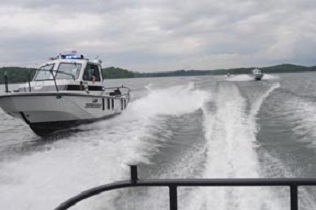 Frankfort, KY. – Kentucky conservation officers teamed up with law enforcement personnel from 450 agencies nationwide this summer for Operation Dry Water.
Operation Dry Water is devoted to Boating Under the Influence (BUI) education and enforcement. The weekend enforcement effort, which is aimed at reducing alcohol and drug-related accidents on lakes and rivers, resulted in 4,338 citations issued nationwide, including 321 BUIs.
Additionally, 42,253 vessels were checked and 8,589 safety warnings were issued by the 3,649 officers who patrolled the nations waterways, according to an article published in Small Craft Advisory, the official publication of the National Association of State Boating Law Administrators (NASBLA).
Now in its third year, Operation Dry Water is an initiative launched by NASBLA, the U.S. Coast Guard, and partnering state and federal agencies. It is traditionally held on the weekend prior to the July 4 holiday.
During the weekend, boaters were contacted with safety messages at boat ramps and on the water. Law enforcement officers conducted courtesy boat inspections. Officers also answered questions about Kentuckys boating laws and the safety equipment required on boats.
Our goal every year on this weekend is to have no Boating Under the Influence (BUI) arrests and no alcohol-related accidents, said Captain Mike Fields, Boating Law Administrator for the Kentucky Department of Fish and Wildlife Resources. Operation Dry Water is an effort to get the word out that alcohol and boating dont mix.
Kentuckys boating laws are detailed in the Kentucky Fishing and Boating Guide, available wherever hunting and fishing licenses are sold. The guide is also available online at the departments website: fw.ky.gov.
For more information about Operation Dry Water, go online to www.operationdrywater.org.